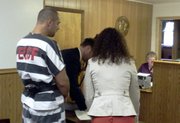 The trial of the third and final suspect in the murder of Robert Rennie began on Tuesday.
Paul Taylor, 39, of Keeseville was charged with second degree murder, second degree gang assault and third-degree criminal possession of a weapon.
Rennie's body was found near an iron footbridge on Mill Hill Road in Keeseville Aug. 26, 2012. Autopsy reports showed he died from blunt force trauma that caused two collapsed lungs and internal bleeding.
Proceedings began after jury selection was completed Sept. 24. Opening statements were made by the District Attorney Kristy Sprague and the defendant's lawyer, Essex County Public Defender Brandon Boutelle.
Sprague told the jury in her opening statement, "I would love to be able to give a clear motive in this case but I can't."
She told the jury that over the course of the trial they will be presented with evidence that Taylor beat Rennie so badly and it was as a result of those injuries that he died.
"We will prove not only did Paul Taylor try to cause harm to Robert Rennie but at some point in time on the night of Aug. 25 his intentions changed to want to kill Robert Rennie."
Sprague said Taylor's motives to harm Rennie stemmed from the romantic relationships both men had with Samantha LaCroix. LaCroix and Rennie had a long history of romantic on-and-off-again involvement. Taylor and LaCroix also had a short romantic relationship after which, Sprague said, Taylor and LaCroix became roommates so Taylor could help with the bills.
"Paul Taylor utilized an opportunity to solve a problem and that problem was Robert Rennie," Sprague said. "LaCroix will testify that on the night of Robert Rennie's death, Paul Taylor returned to her home and told her she wouldn't have to worry about Robert Rennie knocking on her door again."
(Continued on Next Page)
Prev Next
Vote on this Story by clicking on the Icon