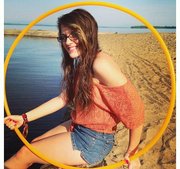 Plattsburgh — Friends are coming together for a night of music and dance in support of Alexa Limato who was seriously injured in a Sept. 20 house fire on Couch Street. The event will be held Sept. 26 at the Green Room from 10 a.m. to 2 a.m.
The event titled "Help Alexa Heal" will raise funds going directly to Limato and her family.
With a large amount of students willing to help and donate time, The Green Room is providing a place to show their support for the young woman. Chris Dumont, owner of the Green Room, said he wanted to hold the event to show support for Limato. Dumont has a personal connection to Limato as her boyfriend, Brian Carroll, is a bouncer at the Green Room.
"My heart was broken when I saw Alexa that night," Dumont said. "Brian is like a little brother to me. There is no way I could stand by and do nothing; I wish I could do more."
Dumont said he is volunteering the space, five disc jockey's will be volunteering their time, friends of Limato's will decorate the venue in her favorite color, purple, and they will set up a table where people can make donations to Limato's family.
"The money raised will be used however her family wants to use it," Dumont said. "Medical expenses, travel, food, lodgings wherever it is needed."
Caroll wrote in an email that the outpouring of support from Limato's friends has been a comfort to his girlfriend's family.
"Her mother broke down in tears when I told her the place where I work wanted to do a fundraiser," Caroll wrote. "She's amazed by the sense of camaraderie and sense of community concern for her daughter."
The five DJ's who will be present will include Skippy, XXX and Fancy Music. In addition, Dumont said there will be two special guest DJ's announced that night.
(Continued on Next Page)
Prev Next
Vote on this Story by clicking on the Icon