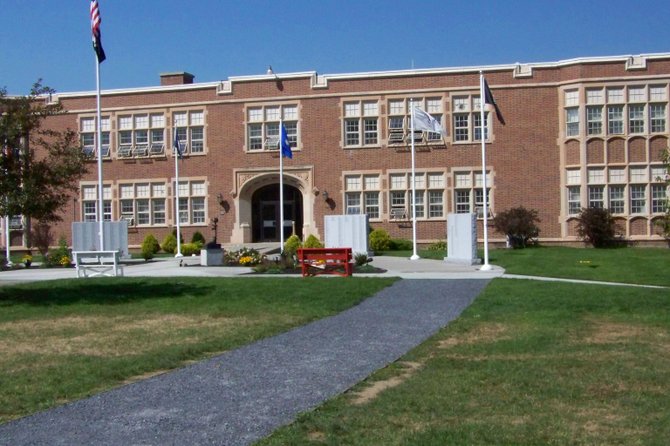 CHESTERTOWN — The town of Chester has received recognition and been rewarded as they've taken yet another step towards sustainability.
The town government was awarded $207,000 this week in federal funding toward their effort to convert to biofuel heating of their expansive municipal center. The funding announcement occurred a matter of days after a videographer and crew visited town to document the town's solar power installation for public television.
Thursday Sept. 19, U.S. senators Charles Schumer and Kirsten Gillibrand as well as Congressman Bill Owens (D-Plattsburgh) announced that the town of Chester was awarded a $187,000 grant and a $20,000 loan through the U.S. Department of Agriculture's Rural Development program to install a new pellet boiler to heat the town municipal center.
While the federal legislators touted how the project would boost efficiency and help keep senior citizens warm at the local community mealsite, Supervisor Fred Monroe said Friday that relying on wood pellets for heat would cut heating costs while enabling the town to convert to a renewable, plentiful resource that boosts the rural economy.
"The beauty of this pellet-fuel boiler installation is that we over time create jobs locally and don't send money over to the Middle East," he said.
A new pellet-fuel boiler could be installed and be ready for the 2014-15 heating season, he said. This new equipment would replace an aging fuel-oil boiler, and would be backed up with another existing oil-fired boiler that's relatively new.
A consulting engineer for the town has estimated that the town can save $18,000 to $19,000 per year of about $40,000 the town annually spends for heating fuel, Monroe said.
The installation is expected to save local taxpayers as much as $190,000 over the boiler's expected life. Payments on the $187,000 loan are about $16,000 per year over 15 years, Monroe said. He noted that savings during the life of the loan — which carries 3.5 percent interest — would be about $3,000 per year, and once the equipment is paid off, savings would jump to the full $19,000 or so. He added that the savings might increase over time as oil prices rise.
(Continued on Next Page)
Prev Next
Vote on this Story by clicking on the Icon