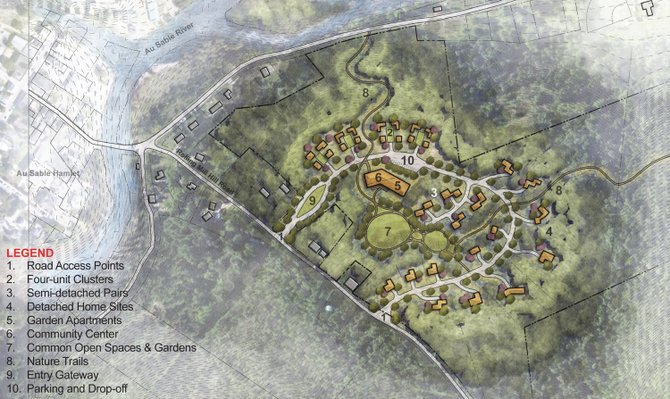 continued — "In other words, we're trying to put the book into action," Trancik said. "The upcoming workshops are the final series of workshops in those hamlets."
With the help of community leaders, Trancik has identified specific sites in each of the five hamlets to develop a project based on the principles and the planning model they developed in the first phase.
"Each hamlet has a very different set of problems and conditions, and we're trying to illustrate that," Trancik said. "You know these principles can apply in a lot of different contexts given the regulatory environment in the Adirondack Park. There are a lot of possibilities for sound, sustainable economic investment and good planning and design that can help these communities in the future."
The overall goal of the second phase is to "revitalize and empower Adirondack hamlets through direct training and example."
"Au Sable Forks has got a very special problem," Trancik said. "Hurricane Irene wiped out a huge part of that hamlet, so we're showing how they can expand very close to the hamlet, still within walking distance or a short drive, on to higher ground."
The project in Au Sable Forks will show a new residential cluster or what they call a "pocket neighborhood" development above the flood plain.
The Rolling Hill Mill Road site offers a variety of housing types enabling diverse income levels and multi-generational living arrangements, according to the plan.
"With ample common space, a site for a community garden, and some housing units in clusters or 'pocket neighborhoods,' the site arrangement engenders an open sense of community while preserving privacy," the plan states. "The site also features walking trails connecting with nature as well as other areas of the hamlet."
The other projects are: Caroga, new hamlet center; Indian Lake, core improvements to the downtown; Blue Mountain Lake, new hotel; and Long Lake, Jennings Pond Park.
Developing smart growth around existing hamlet centers has two major benefits:
It enables the community to integrate land suitable for development into the fabric of the existing hamlet.

It complements the protection of open space by discouraging visually unappealing and inefficient sprawl and strip development.
Smart growth principles include: form and place; boundaries; walkability and human-scale; access to nature; compact centers; energy and sustainability; jobs and housing; travel choices; visual quality; resource preservation; and collective decision-making.
For more information about Hamlet 3, visit online at www.apa.ny.gov/Documents/Reports/Hamlets/index.html.
Vote on this Story by clicking on the Icon