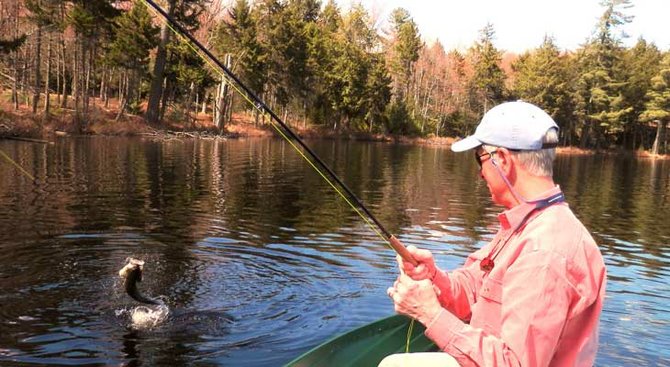 In recent years, the arrival of the annual big game hunting season has featured conditions more in keeping with summer's heat, than autumn's cool breeze.
For the past few seasons, I've been decked out in cotton camo more often than woolies and long johns for the opening day.
Fortunately, it appears the local weather patterns may have attempted a return to normal this year.
Already, the region has experienced some hard frosts, and there's snow cover capping the High Peaks.
Snow in September, and the peak of fall foliage arriving before the Columbus Day weekend. What's going on here?
Maybe it is just nature's way of letting us know who is ultimately in control of the earth's climate.
Scientists may like to believe mankind has been responsible for all the sweeping climate changes we've experienced in recent years, with global warming, the massive glacial retreats and ever shrinking ice caps.
Yet, when viewed through the lens of time in a truly geologic sense, the burgeoning global warming we've experienced in recent decades is likely not much more than a blip on the world's historic weather radar.
Humans tend to view the progress and processes of the natural world in a truly irrational and egocentric sense. We prefer our time to be measured by the generation, rather than by the epoch.
The human lifespan is far too brief to be truly defining, except for a spell in the mid 1980's when disco arrived, and country music was nearly compromised.
There is no doubt global climate change is for real, at least for those of us who have managed to survive through several generations, like the 50's, 60's or 70's!
People have asked if I believe the weather will ever return to normal. My response has always been less ponderous and more a matter of fact. Weather changes.
Joe Hackett is a guide and sportsman residing in Ray Brook. Contact him at brookside18@adelphia.net.
(Continued on Next Page)
Prev Next
Vote on this Story by clicking on the Icon