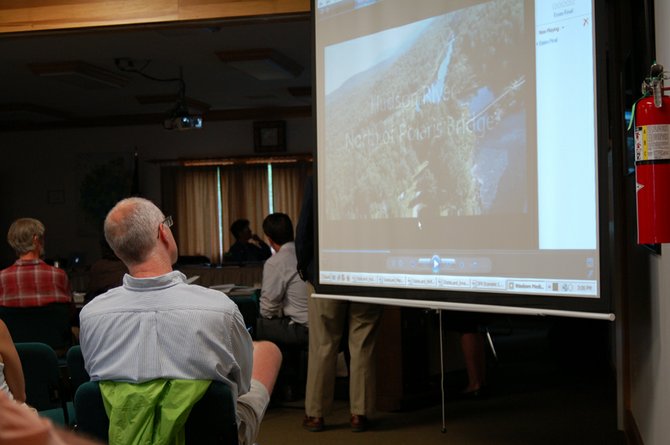 continued — Asked if he expected anything different from Booth, the Newcomb supervisor said, "No. Not really."
Despite Booth's pro-wilderness comments, all hope may not be lost for wild forest proponents. No other State Lands Committee members voiced an opinion on their impending classification decision. The other committee members are Sherman Craig, William Thomas, William Valentino and Department of Environmental Conservation (DEC) Region 5 Director Robert Stegemann.
In addition, Booth has a history of voting his conscience, no matter how unpopular. For example, he was the only APA Board member to vote against the Adirondack Club and Resort project in 2011. The vote was 10-1.
The Newcomb supervisor thinks a decision on the Essex Chain Lakes classification should come sooner rather than later.
"I'm hoping they'll make that decision next month, so we can get on with this business," Canon said.
That decision, however, may not come until November at the earliest. Most State Lands Committee members said they needed more answers from staff before the real debate got under way, and an October decision is unlikely.
The APA held a series of eight public hearings this past summer to collect comments for state land classification alternatives for the former Finch, Pruyn lands. The classification proposals involve lands in the towns of Minerva and Newcomb, Essex County and the town of Indian Lake, Hamilton County.
Members of the Upper Hudson Recreation Hub favor a wild forest classification of all 69,000 acres of former Finch land, including the Boreas Ponds Tract, which has not yet been purchased by the state. The Essex Chain Lakes is part of that 69,000 acres and was purchased in late 2012.
Tracts of land
Below are the tracts of land currently up for classification at the APA.
•The Essex Chain of Lakes and Hudson River: With 11 lakes and ponds interconnected or within portaging distance of each other, the Essex Chain will provide a canoe route and a much anticipated paddling experience. A long history of fish stocking that includes brook trout and landlocked salmon will ensure outstanding fishing. A five-mile stretch of the Hudson River runs along the east side of the Essex Chain parcel, completing an uninterrupted, "forever wild" stretch. The Essex Chain tract provides opportunities for hunting, day rafting, canoeing, kayaking, fishing, overnight river trips, and camping.
Vote on this Story by clicking on the Icon