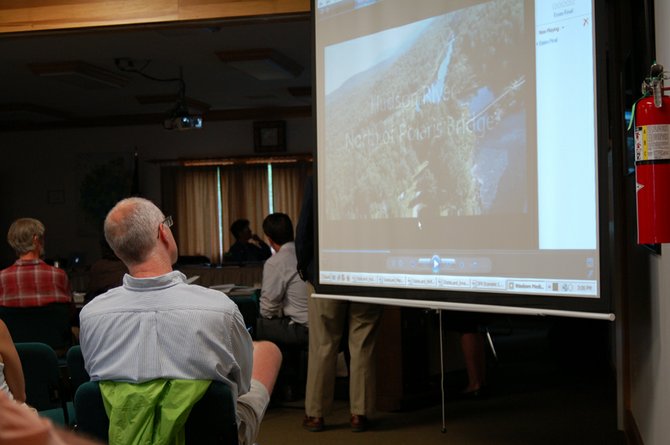 continued — The memo, according to Booth, should look at the language of the plan in terms of the restrictions it places on the APA's eventual decision.
"The overall guideline in the Master Plan is that the resources not be degraded," Booth said. "That is the basic bottom line requirement in the classification process. And I think before we do this, we need an analysis that basically lays out what the mandates are of the plan and what the choices are regarding wilderness, primitive, canoe and wild forest."
Local reaction
Four town supervisors from the five-town Upper Hudson Recreation Hub were in the audience at APA Headquarters in Ray Brook watching the State Lands Committee meeting. They all support a wild forest designation of the Essex Chain Lakes, asserting that it will draw more users to the region, therefore more tourism dollars, because a wild forest classification is less restrictive than a wilderness classification. In wild forest, for example, motorized traffic such as mountain bikes, motor boats and automobiles are allowed, based on the unit management plan. No motors are allowed in land classified as wilderness.
Sitting together in the audience were town supervisors Sue Montgomery Corey (Minerva), George Canon (Newcomb), Ronald Moore (North Hudson), and Brian Wells (Indian Lake). The only one missing from the Upper Hudson Recreation Hub coalition was Long Lake Supervisor Clark Seaman.
The supervisors' reactions to Booth's pro-wilderness speech at the APA meeting were mixed. Moore and Wells refused to comment. Corey put on a brave face but was clearly discouraged.
"I'm the eternal optimist, so I remain hopeful, but it's challenging to remain hopeful," Corey said.
Before Canon left the meeting with Wells, carpooling in the Indian Lake supervisor's vehicle, he voiced his opinion of the proceedings.
"It was pretty good until the end, and then we heard some pretty negative things, particularly from Mr. Booth," Canon said. "I obviously didn't agree with his statements, and I hope the rest don't either."
Vote on this Story by clicking on the Icon