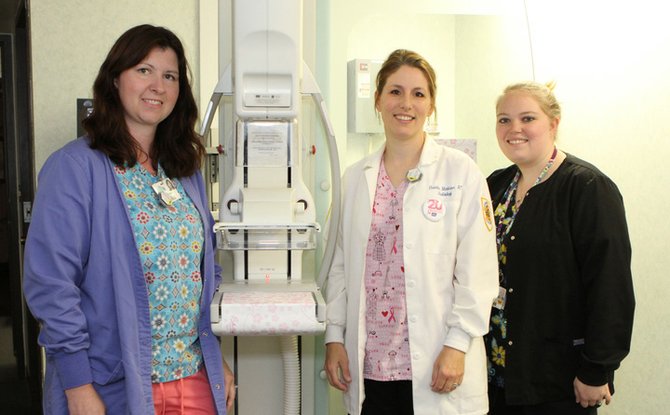 continued — — women can help reduce their chances of having breast cancer by doing regular physical activity, keeping a healthy weight and limiting the amount of alcohol they drink; and
— through early detection and improved treatments, more women than ever are surviving breast cancer.
Mammograms are available at Inter-Lakes Health Tuesdays 9 a.m. to 5 p.m., Wednesday 1 to 3 p.m., Thursday 1 to 3 p.m. and Friday 9 a.m. to 5 p.m.
Diagnostic mammograms are scheduled when a radiologist is on site , Thursdays 8:30 to 11 a.m.
Technologists who perform the mammograms are Mattison, Hillary Price and Jennifer Cigana. Together they have 17 years mammography experience.
The Inter-Lakes Health mammograms are read by Adirondack Radiology Associates of Glens Falls
"Patients should have a CBE (clinical breast exam) performed by their provider prior to having a mammogram," Mattison said. "After the CBE the provider will write them an order for either a screening or a diagnostic exam depending on whether or not they feel anything on the breast exam."
Besides a lump, signs of breast cancer can include breast pain, thickening of the skin of the breast, nipple discharge or a change in breast size or shape — however, these signs may also be signs of benign conditions, according to the American Cancer Society.
Vote on this Story by clicking on the Icon