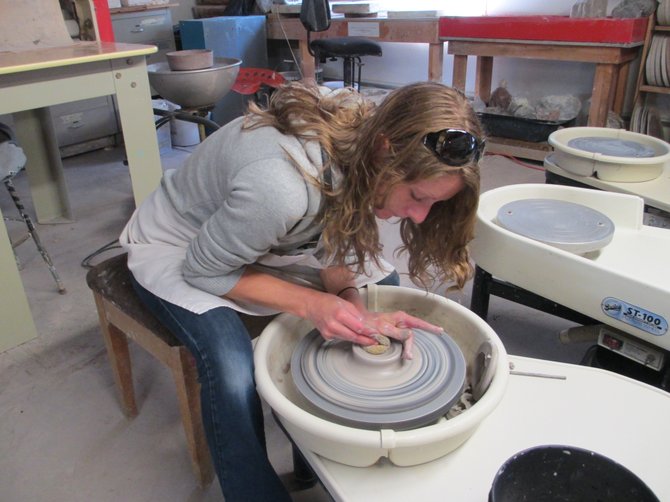 continued — The class will allow family members to reform a furniture piece or home accessory into something new and rejuvenated. The focus of the course will be, "Repurpose, Recycle and Create!"
Each family is asked to bring one old household item that can be repurposed.

The next workshop will be the Children's Fiber Workshop – Holiday Keepsake. DeJoseph will teach children to design, cut, assemble and leave with a small collection of felt keepsakes with nature and animal themes that will be a perfect accent to the holiday tree or home décor. The workshop is Saturday, Nov. 9, from 10 to 11:30 a.m. Cost is $50 per child and includes all materials.
In the next workshop, "Creative Clay Tiles" students will learn to tell their family story with Artist Carol Marie. Students will create a series of four tiles per family that define their family. The course will use stencils, glazes, and firing are included. The class has two sessions on Nov. 23. The morning class will run from 10 a.m. to noon, and an afternoon session will run from 1 to 3 p.m. The cost is $50 per family per session (up to family of four. $10 each for additional family members) and includes all material and firing.
"Clay Gingerbread House," will be the next workshop. Each member can make their own special home for the "Gingerbread" family, or work on one together with course taught by Vossler to make a family holiday heirloom. Two sessions of this class will run on Dec. 7. The morning class will run from 10 a.m. to noon, and an afternoon session will run from 1 to 3 p.m. Pre-registration is requested. Cost is $50 per family per session includes all material for one house, instruction, and firing.
The fall will kick-off a new season of BluSeedlings. Hannon said the "Adventures in Art," program for young artists in grades third through eighth is designed to inspire children to explore and discover art through creative projects in clay, sculpture, collage, printmaking, drawing and painting. The courses are designed to strengthen creative skills, build self-esteem and confidence, develop a sense of individuality, encourage self-expression and stimulate the imagination in children.
Adventures in Art, a six-week course, begins on Thursday, Oct. 3, and goes to Nov. 7. The class will be taught by Joanna Merry, a graduate from SUNY Plattsburgh with a BFA in Ceramics and Printmaking. Joanna has assisted and taught several workshops over the past couple years including children's classes in Plattsburgh and BluSeedlings Classes and Adult Beginning Ceramics classes at BluSeed Studios. The course including materials and will cost $125 (partial scholarships available).
For more information or to register, call 891-3799 or e-mail admin@bluseedstudios.org.
Vote on this Story by clicking on the Icon