Ticonderoga —  Tony DiFebbo doesn't like a lot of attention, so being part of the North Country Honor Flight recently had some uncomfortable moments.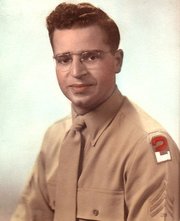 "Everywhere we went people wanted to shake our hands; they saluted us," the World War II veteran said. "It was an amazing feeling. It was very emotional."
The flight took 31 veterans, including Ticonderoga resident DiFebbo, to Washington, D.C., for a tour of the World War II monument and other sites. But it was more than a sight-seeing trip. It was a way of honoring and thanking members of America's Greatest Generation.
"It's one of the best things I've ever done," DiFebbo said of the trip. "They (Honor Flight officials) were fantastic. They made us feel really special. They deserve so much credit. It was wonderful."
North Country Honor Flight is a non-profit organization created to honor the North Country's veterans. It flies veterans to Washington, D.C., to visit and reflect at their memorials. Top priority is given to the senior veterans who are World War II survivors, along with those veterans who may be terminally ill.
The veterans left Plattsburgh Airport following a ceremony that included military, police, firefighters, Boy Scouts, veterans groups and politicians.
"Today you will experience, and already have since early this morning, bugle calls, crowds cheering you, service men and women saluting you, motorcycles rolling thunder, police escorts, flashing lights, flags waving, tears flowing, handshakes and hugs, fire trucks with air horns blasting, a reception when your honor flight aircraft lands at BWI (Baltimore-Washington International Airport) — and in a few short hours you will arrive in Washington, D.C., at your memorial," Danny Kaifetz, North Country Honor Flight executive director, told veterans prior to leaving.
"All the crowds, the flag waving, the hugs and handshakes and salutues and motorcycles and fire trucks, the tears and the joy, all of which is something I hope you will never forget, but you know what?" Kaifetz said. "That is just the interest on the debt this country has owed you for 68 years."
(Continued on Next Page)
Prev Next
Vote on this Story by clicking on the Icon