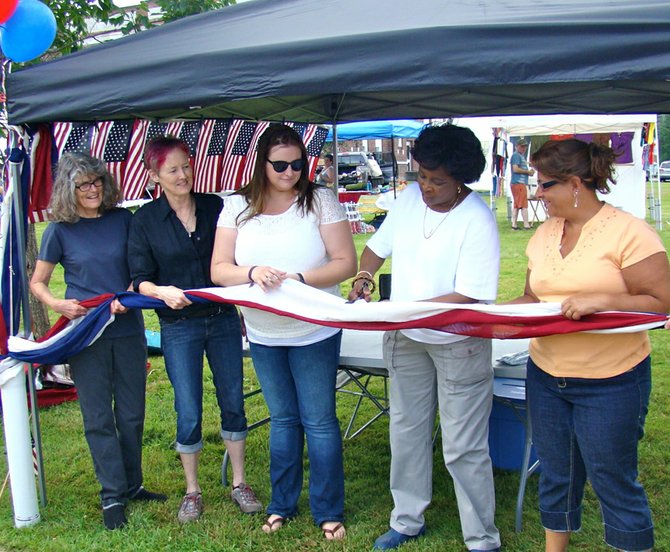 continued — Attention was also drawn to the wonderful floral displays throughout the town — all the work of the Indian Lake Garden Club, now celebrating its 10th anniversary.
Valentine continued by pointing out that the addition of a farmers' market on Saturday mornings during the summer has been a big part of the Main Street enrichment efforts. The market is held at the Indian Lake Central School. She discussed the challenge of getting farmers to come to Indian Lake and the complicating factor that there is only one farm in all of Hamilton County. That farm is represented at the Saturday market along with fresh produce from one other resource, fresh-baked goods, pickled products, handmade furniture and original designer tees.
Valentine discussed the importance that support from the community plays in sustaining and growing this additional resource for locally grown and fresh produce. She also mentioned that this, along with the McWhorter's visits during the week and the planned expansion of the Adirondack One Stop, is going a long way toward filling the large gap left by the loss of the Indian Lake Market.
In addition, Valentine said the Community Garden has seen an increase in interest and is growing. She discussed the promise of having fresh meat resources and perhaps even seafood at the Saturday market next year. Thoughts of expansion of the season to include fall and winter availability will rely heavily on the continued support of the shoppers in the community. This is directly connected to the ease of attracting additional fresh food resources and vendors with other offerings. Also discussed was the importance of volunteers to help oversee and manage the operation of the market as it grows and expands.
The Main Street effort is also reported to be in the process of developing a central and comprehensive file on all commercial property available for sale in the town so as to expedite the availability of assessment and other pertinent information to potential investors.

Vote on this Story by clicking on the Icon