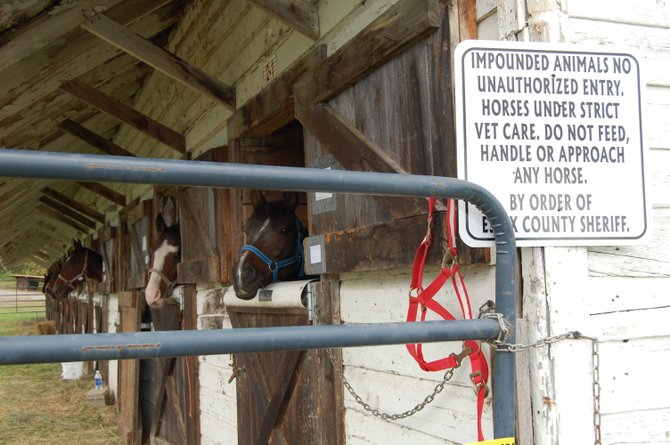 continued — Essex Supervisor and co-chair of the county Animal Cruelty Task Force Committee, Sharon Boison, refused comment on the case and asked a reporter not to publish photographs taken of the malnourished horses at the fairgrounds.
"Essex County, as required by law, accepted the responsibility for providing temporary shelter for the horses which were determined by independent veterinarians to be seriously neglected and in need of immediate feed and care," County Manager Dan Palmer said in the press release. "Our hope is to quickly restore these horses to good health. Any assistance the public can offer would be greatly appreciated."

Because of the strict dietary needs of the horses, monetary donations for the feed and care of the horses is being requested by the members of the Essex County Animal Cruelty Task Force.

"The clerk at the town of Essex is organizing a list for people who would like to volunteer to help and they are looking for monetary donations and hay donations," Cutting said.
To donate, people should contact Tam Mrose of the Animal Cruelty Task Force at 834-7849. Donation checks can be sent and made payable directly to the Essex County Treasurers Office, P.O. Box 217, Elizabethtown, NY, 12932. Anyone issuing a check is asked to indicate on the memo line of the check — Horse Care.
Vote on this Story by clicking on the Icon