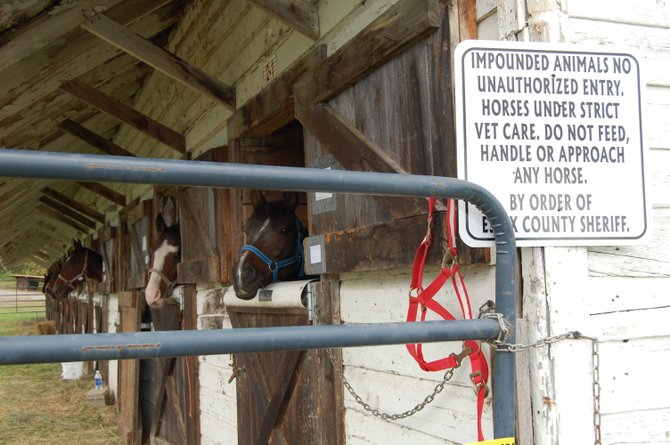 Essex — Thanks to a tip from a concerned citizen, 41 malnourished horses have been seized and their owner, Shelley Wing of Essex, has been charged with 41 counts of failing to provide sustenance for them.
Wing was served a summons in the afternoon of Monday, Sept. 23. She was scheduled to be arraigned in Essex Town Court the same day at 6 p.m. The horses were seized from her residence on Sept. 20 by officers of the Essex County Sheriffs Department, aided by members of the county's Animal Cruelty Task Force Committee, the North Country SPCA, Crane Mountain Valley Horse Rescue and volunteers.
The sheriff's office became aware of the alleged neglect through a complaint from a concerned citizen. Upon further investigation, and in conjunction with the Essex County District Attorney's office and the local magistrate, a search warrant was obtained. The horses were examined by veterinarians and removed from the property.

The animals were found to be in varying conditions ranging from severe malnutrition to injury and were removed for treatment and recovery.
Essex County Sheriff Rich Cutting said he couldn't go into too much detail about the state of the animals at the time of the seizure, while the investigation continues.
But, Cutting said this is one of the most severe cases of neglect he has seen in his many years of law enforcement.
"Obviously with 40 horses there is a lot of work ahead to bring these horses back to a healthy state once again," Cutting said.


Most of the horses were brought to the Essex County Fairgrounds. The horses are being housed in stables blocked off by yellow police tape. On the barn a sign reads "Impounded animals no unauthorized entry. Horses under strict vet car. Do not feed, handle or approach any horse. By order of Essex County Sheriff."
(Continued on Next Page)
Prev Next
Vote on this Story by clicking on the Icon