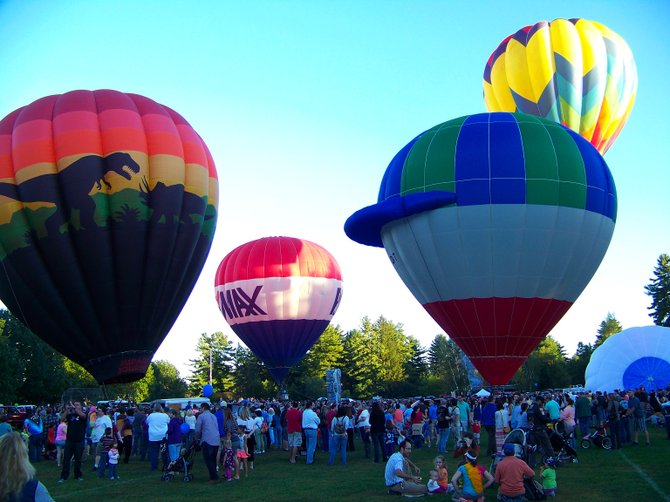 GLENS FALLS — Amidst pilots getting their craft ready for flight, Mark Donahue leaned on his truck which bore an Adirondack Balloon Festival logo.
A middle-aged man with tears in his eyes walked up to Donahue, shook his hand, said "Thank you, thank you so much," and then disappeared in the crowd.
Donahue, Adirondack Balloon Festival president, looked slightly bewildered.
"The joy of this festival is just amazing," he said, recalling how a half-hour earlier, moments after he'd formally opened the event Sept. 19, a four-year-old child asked him to dance, and he did.
Donahue gazed over the crowd at Crandall Park — people were packed around two dozen balloonists, either inflating their balloons, or prepping their rigging.
"This is phenomenal — this is the biggest crowd I've ever seen for the festival on a Thursday night," he said, estimating a gathering of 7,500.
Gesturing toward the gridlock on Glen St., Donahue continued his observations.
"This is just insane — I heard that it's a 45-minute drive from downtown to here," he said. "But there are smiles everywhere."
Joyce Willis, 73, of New Franklin, Ohio walked up to Donohue and offered her thoughts.
"I wanted to come to upstate New York and see THE balloon festival and here I am," she said gripping his hand.
She had traveled to Glens Falls on a tour bus with other Ohioans, tourists up to the age of 93.
"People are so kind here," she told Donohue, noting that not long before, she had walked past a local man who spontaneously stood up and offered her his chair for balloon-watching. Donahue smiled as Willis told her story.
Nearby, Mike Adolfi watched a balloon pilot give his craft a shot of propane flame, and it drifted upward. From Queensbury, he's one of the few local residents who hasn't regularly attended the area's premier festival. This year is the first he's experienced in 25 years. Adolphi explained his job has kept him busy, but now he's retired.
(Continued on Next Page)
Prev Next
Vote on this Story by clicking on the Icon