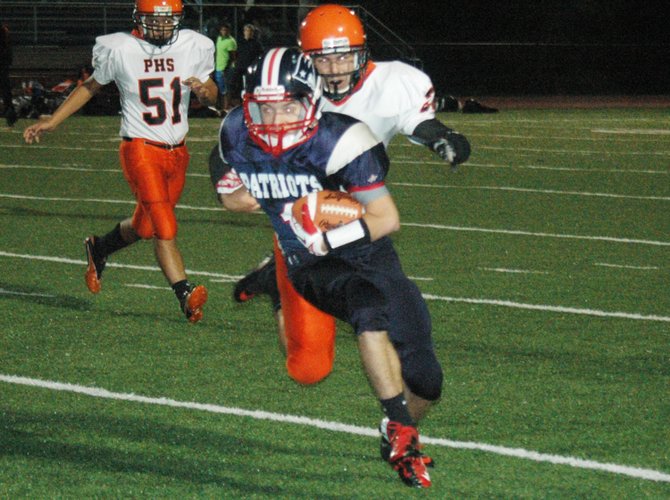 continued — "It was just a well-thrown ball," Ashline said. "I gave the signal, and he put it right where it needed to be."
Goodnough again scored in the second quarter on a 27 yard touchdown run, which was followed by a 16 yard scoring run by Savage two plays after forcing his second turnover of the night.
"The defense has been playing great," Savage said. "We have to tighten up on the penalties, but we have been getting to the holes fast and shooting the gaps. We still have some work to do."
"We have been trying to put the focus on defense more this season," Ford said. "The guys had a real fresh idea of how to play and where to be on the field."
Goodnough scored the final touchdown of the game with a 25 yard run in the third quarter, while Brandon Nolan recorded a safety in the fourth quarter to cap the 42-6 victory.
Goodnough finished 2-of-3 passing for 82 yards, 66 going to Ashline and the other 16 going to Connor Kennedy. He also had 100 yards rushing on eight carries, scoring three times.
Savage carried the ball 17 times for 140 yards and one score, while Ashline carried 10 times for 49 yards and Brad Pray added 31 yards on three carries. In all, the Patriots ran for 320 yards and had 402 yards of total offense.
The Patriots next host Peru Friday, Sept. 21, followed by their lone Class C game of the regular season against Saranac Lake Saturday, Sept. 29.
"Peru is a very good team and will be a challenge," Ford said. "We will use this to get ready for that Class C game. The focus is on Saranac Lake."
Vote on this Story by clicking on the Icon