continued — "It's called the Gibson Brothers," Leigh replied.
"But you still do it, right?" she asked.
"No," Leigh said. "I'm sure there are things that I've written that I liked better than Eric likes but he thought it was good enough to be there with other songs that are being considered for the record. Then there are the songs that he's written or that I've written that the first time you hear it, that's going to be a focus. Like 'They Called It Music,' the record's going to be built around that song."
Eric and Leigh sang several songs during the songwriting workshop, including "Something Comin' to Me," a song the brothers wrote with Shawn Camp and which is on their latest album, "They Called It Music."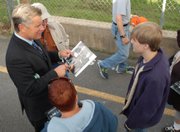 They explained how the song was written in 2012 shortly after their father, Kelley, passed away. They weren't in the right frame of mind to write songs, but they had to keep their songwriting appointment with Camp in Nashville. At one point, when Eric was frustrated about the process and Camp walked out of the room for a breather, he played a little bit of what became "Something Comin' to Me" on the guitar.
"I wasn't thinking about it," Eric said. "I was just fiddling around with that melody, and he (Camp) walked back into the room and said, 'What's that?'"
"I said, 'Ah, it's nothing. It's just something coming to me,'" Eric said. "Of course, we talked about our dad passing away. And he said, 'You know, I'd love to get your daddy in there.' So we got that verse in there ... 'Daddy plowed the fields and worked the land' ... So that song means something, and Leigh sings it like it means something to him."
They didn't finish the song in that first songwriting session with Camp.
Vote on this Story by clicking on the Icon