Plattsburgh — Between sets on the Plattsburgh Bluegrass Festival's big stage Saturday, Sept. 14, Eric and Leigh Gibson stepped into a garage-like stall of Building 16 at the Clinton County Fairgrounds to give a songwriting workshop.
The Gibsons — both graduates of SUNY Plattsburgh and natives of Ellenburg Depot — seemed at ease as they pulled up two metal chairs in the back of the OSB-lined room. These 2012 International Bluegrass Music Association (IBMA) Entertainers of the Year were surrounded by fans of all ages, including members of the SUNY Plattsburgh Bluegrass Club.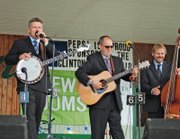 Leigh, on the right, took out a guitar from his white case, and Eric, leaving his Deering banjo backstage after the first set of the day, took out a guitar from his black, sticker-decorated case. Both were still dressed in their black concert suits as they explained how and why they write songs.
"One of my biggest thrills about doing this is getting to do original material on stage," Eric said as he was tuning his guitar.
Playing about 70 percent of original material on stage, the Gibson Brothers continue to write songs on a regular basis — on their own, with each other, and with noteworthy musicians such as Tim O'Brien, Shawn Camp and Joe Newberry.
"It's always a little nerve-wracking to present a song to Leigh or the rest of the band ... And we've both learned not to pout if the other guy doesn't like one of our original songs," Eric said, adding that they both have to agree on a song before they record it or play it in public.
Both brothers write songs ... award-winning songs. Currently, "They Called It Music," written by Eric Gibson and Joe Newberry, is the No. 1 song for September on the Bluegrass Unlimited charts.
One woman in the workshop audience asked Leigh if the band would play one of his songs even if Eric didn't like it.
(Continued on Next Page)
Prev Next
Vote on this Story by clicking on the Icon