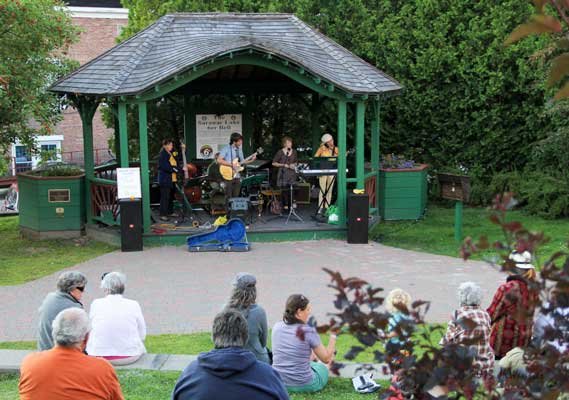 continued — The John Black Room at the Saranac Laboratory Museum, on Church St., will continue its exhibit of "Ursula, A Life in Hats," a show depicting a collection of the unique hats worn by local artist, Ursula Trudeau, throughout her life. In addition, the Museum will be holding the second session of its Hat Decorating Day during the Art Walk. With Ursula's hats as inspiration, come and make decorations to refresh your hat, make an ornamental headband and/or paint your straw hat. Some decorative materials will be provided or you can also bring your own. Malone-based, acoustic pianist, Matt Bullwinkel, will entertain outside the Museum, as well.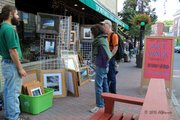 The Adirondack Artists' Guild, on Main St., will feature the talents of artist and member, Ken Wiley, in his show, "There & Here: 50 Years." The Guild will also be displaying other members' work and hosting the local musical group, "Barn Cats." The NorthWind Fine Arts Gallery will continue to showcase the talents of all its members and feature the black and white photography of Phil Gallos in his exhibit, "Saranac Lake Noir." The Cantwell Room in the Saranac Lake Free Public Library will be exhibiting the works of Northstar Industries' artists. They will be holding a "Meet the Artist" reception during the Art Walk, as well.
The Berkeley Green stage will be hosting the local, folk music talents of the "Rustic Riders," made up of Lisa and Klaus Meissner and friends. Next door at The Community Store, Charlie Marshall will be demonstrating and selling his unique and handmade stringed instruments, called bowed psalteries. Local, six-piece recorder group, "Jubal," will entertain Art Walkers outside Main St. Exchange. And The Waterhole's Party on the Patio will feature the "Blind Owl Band" from 6:30pm through the evening.
Walking down Broadway, visitors can visit the Twin Crystal Rock Shop, which will be giving rock-cutting demonstrations and hosting fused glass jewelry maker, Lauren McGovern. Local musical duo, Jeremy Krones and Clif Albright will be performing in front of Eco-Living. Near the Post Office, the Tri-Lakes Center for Independent Living will be hosting several artists. Richard Ganfus will be displaying his artwork inside, while Tom Techman and Michael Northrup will be performing music and poetry together outside. Also, author, Yvona Fast, will have a book-signing table for her recently published recipe book, Garden Gourmet. At the new Moose Maple Books and More, on Olive St., the owners will be displaying their handcrafted furniture and other specialties.
Vote on this Story by clicking on the Icon