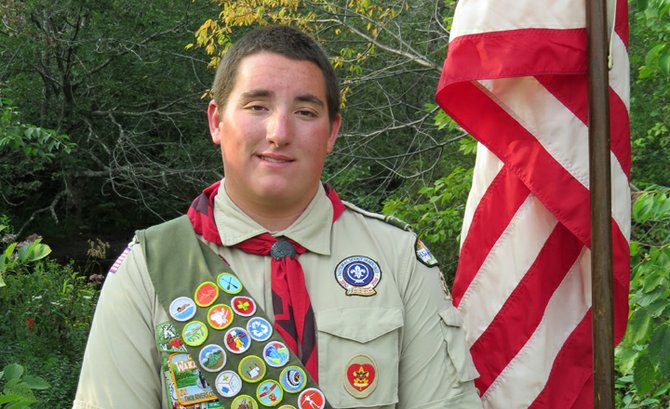 continued — The soon-to-be Eagle also acknowledged his scout leaders and parents. His father, Joseph, is now Troop 37 scoutmaster.
"My dad took over this position from Curtis McCoy, who was my scoutmaster for five years since joining Troop 37," Foote said. "Mr. McCoy was has been a great help in teaching and guiding me in the right direction throughout my scouting career so far. He was always there for camping trips and activities even though he had no children in our troop. He continues to be an influence to me and hopefully to that scouts that will follow me.
"And my mom (Jacqueline) and dad took the time to get me to all the events that I wanted to attend," he added. "They also stood by me and guided me to complete what I started, the difference between right and wrong, and gave me a chance to learn my own way."
Foote also thanked members of the Twin Rivers Council and the Schroon Lake Fish & Game Club, which sponsors Troop 37.
"I also want to thank two leaders, Jim Iannaconne and John Dillon, who helped me along my journey, and, even though they have passed away, they will be an influence on me for the rest of my life,"Foote said.
Foote expects to remain active in scouting, becoming an adult leader after reaching age 18. He also has big career plans.
"I am currently a senior in high school, a member of the National Honor Society, and am also in the BOCES New Visions Health Career Exploration program," he said. "I want to thank all my teachers that have helped me along the way to guide me into the person that I am today. I am planning to go to college and study biology/pre–med. I then will hopefully go to medical school and become a cardiothoracic surgeon or an emergency medicine physician/surgeon."
Vote on this Story by clicking on the Icon