Capital Zen features members Jeff 'Rog' Tollison on Drums, Tony 'The Tiger' Leombruno on bass and vocals, Scotty 'Karate' Hannay on keys and vocals, and 'Hurricane' Terry Scoville on guitar and vocals.
For more information call the Monopole at 563-2222.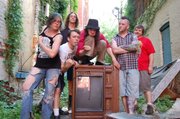 Return of the Fly comes back to Monopole
PLATTSBURGH — Return of the Fly will perform at the Monopole, 7 Protection Ave, 10 p.m. will perform on Sept. 14.
The Misfits tribute band gets their sound from vocalist Nicholas Dubay, bass players Sam Egan, Sean G, and Franz Pope, guitar players Matt Hall, Jordan Buck, and on drums Garry Michael.
For more information about the band go to their Facebook page at www.facebook.com/pages/Return-of-the-Fly-Misfits-Tribute.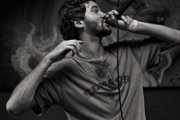 ROTA hosts three-part Rap & Hip Hop show
PLATTSBURGH — Three part hip hop and rap artists to perform: Stillborn Identity, Baker, Joe Flow, at ROTA Gallery, 50 Margaret Street, 8 p.m. on Monday, Sept. 16.
Stillborn Identity is an underground hip hop act on tour from Pittsburgh, PA.
Samples of their music can be heard by going to http://stillbornidentity.bandcamp.com/
Baker, is an independent rapper on tour from Youngstown, OH.
Samples of Baker's music can be heard by going to http://staybaked.bandcamp.com.
Local hip hop performer Joe Flow featuring B.E.Z. Hutti Buddie Music Production will be debuting their act at ROTA.
Admission is based $3 - $10 pay-what-you-can sliding scale price.
Reggae Thursday returns with The Snacks

PLATTSBURGH — Reggae Thursdays return with The Snacks to perform at Monopole, 17 Protection Ave, on Sept. 19 at 10 p.m.
The Snacks are a group of local musicians that love to play reggae music. Their exciting style is built by members Stuart Benner-Campbell, Jimi Ward, Dan Andersen, Kelly Benner-Campbell, Grayson Wheeler, Nicholas Dubay, Hiroshi Oda.
For more information call 563-2222.
Vote on this Story by clicking on the Icon