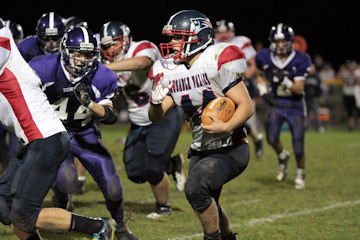 continued — Football
The AuSable Valley varsity football program will look to build on their 2012 campaign by handing the ball off to one of the top running backs in Section VII.
"Dillon Savage will be one the biggest players to watch this season," head coach Heith Ford said. "With his season cut short last year with a serious ankle injury he is determined to make up for lost time. The line led by Kyle Coolidge will provide protection for the powerful runner."
Ford said that the team will look to improve throughout the season as they bring newer varsity players along.
"Steady improvement is a goal and a must," he said. "We are youthful in some skill areas and time and reps will solidify those areas."
The Patriots will be anchored by quarterback John Goodnough.
Lineman for the Patriots include Kyle Coolidge, Reilly Peck, Ricky Nichols, Keith Christianson, Matt Nasner, Nick Davis, Kenny Rivers, Brandon Nolan, Cody Lawrence, Mike Bombard, Kevin Strack, Dustin Drake and Micheal Bussiere.
Backs and receivers include Jacob Ashline, Jamie Coolidge, Brad Pray, Cody Furnia, Sultan Sikandar, Chasm Perkett, Dillon Savage, Gavin Friedrich, Connor Kennedy, Lucas Perez, William Coats, Tyler Champine, Zach Crowningshield and Tyler Mary.
Boys soccer
The AuSable Valley varsity boys soccer team is looking to make strides throughout the season to improve their play on the pitch.
"We have a lot of inexperienced players this year so we will be focused on improving their skills in order to improve our team game," coach Bob Hamilton said. "If we play our experience in the defensive end we will be very competitive."
Hamilton said that there is a good core of players who will be asked to contribute a lot to the Patriots system.
"We will need to expect a lot out of Austin Facteau, Elias Smith, Riley Taylor, Prescott Doyle, Nate Devins and Alex Knapp in order to compete," he said. "New players Zach Cosgrove and Ian Rennie will need to play huge roles in order for us to have any chance of competing. We will also need to develop our attack as this is an area that we continue to struggle."
Vote on this Story by clicking on the Icon