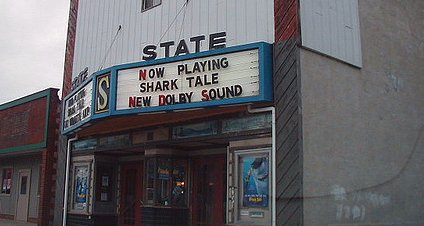 continued — ANCA said as the final numbers are tallied, any additional money raised will go toward related installation costs, such as wiring and heating/cooling system updates.
"The State Theater plays a vital role in the culture of our Tupper Lake community," said Gull Pond Association member Rena Sellin. "We at Gull Pond are glad to do our part to keep its doors open, the movies playing and the popcorn popping."

"I am so proud to be a part of this community," said Eileen Hayes of the Tupper Lake Arts Council. "Time after time, Tupper comes together for worthy endeavors whether it is saving a movie theater, helping a sick child, or easing the traumatic consequences of a fire."
The theater will be closed starting Sept. 6 for the equipment installation and Strasser expects to reopen in October. A community "thank you" event will be planned to coincide with the debut of the new digital projectors.
The announcement by ANCA of the completion of the State Theater's brings the total number of movie theaters to successfully complete the digital changeover fundraising to three, including the Indian Lake Theater and the Glen Drive-In of Queensbury.
Melissa Hart said that the Ogdensburg Cinema has closed but the organization is still working with pursuing other options outside of the campaign to get it up and running again.
Six theaters are still looking to raise the necessary money for the digital changeover, including the Palace in Lake Placid, the Strand in Old Forge, the Strand in Plattsburgh, the Strand in Schroon Lake, the Hollywood in Au Sable Forks and Cinematheque in South Glens Falls.
"I hope the other theaters are as fortunate as we are," Strasser said. "It's a big issue for all small towns. These small theaters don't make much money but support the other businesses around them. These theaters are actually way cooler to attend than the large and boring multiplexes. I always go out of my way to visit these theaters when I travel."
For more information and to make a donation, visit the website razoo.com/team/Go-Digital-Or-Go-Dark. Donations can also be made offline by check to ANCA, 67 Main St., Saranac Lake, N.Y., 12983. Please indicate the theater and community you are giving to on your check.
Vote on this Story by clicking on the Icon