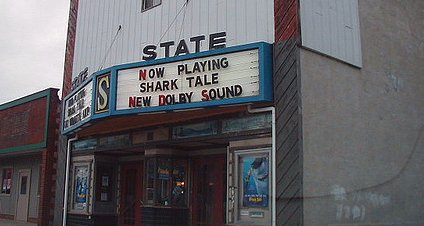 Tupper Lake — A community effort will allow the State Theater to stay current in the new, digital movie age.
The Adirondack North Country Association announced last week that the State Theater had reached its fundraising goal of $95,000 to update the two movie screens for the coming switchover to digital film.
Small community theaters throughout the country have been faced with the same task, to generate enough money to make the transition to digital film or go out of business.
State owner Sally Strasser was grateful for the community support and the chance to continue to run the latest films in Tupper Lake.
"I couldn't be more grateful that the people in Tupper Lake who want their theater to be healthy and in business, that they love the place so much," Strasser said. "I can't wait to get more movies, earlier, when my audience wants them."
The funds also help keep an important part of the town's history alive.
"It is such a piece of history here, and I'm ecstatic we can keep it," she said. "I'm so proud to be part of this amazing community. I always knew this was a special place."
Strasser was able to get a $35,000 grant to start before community members helped out.
According to ANCA, the remaining $60,000 was raised in less than a month.
On Aug. 1, the Tupper Lake Arts Council announced a donation of $10,000 and a $5,000 matching grant. Around the same time, Gull Pond Association started its own matching challenge, spearheaded by a $5,000 donation by the Sellin Family, that resulted in a whopping $16,200 raised in just three weeks. The Belleville family created a matching gift of $5,000. Each challenge was reached by the time it took to tally and record the checks. Stewart's Shops also volunteered to close the gap, making a $5,000 contribution.
(Continued on Next Page)
Prev Next
Vote on this Story by clicking on the Icon