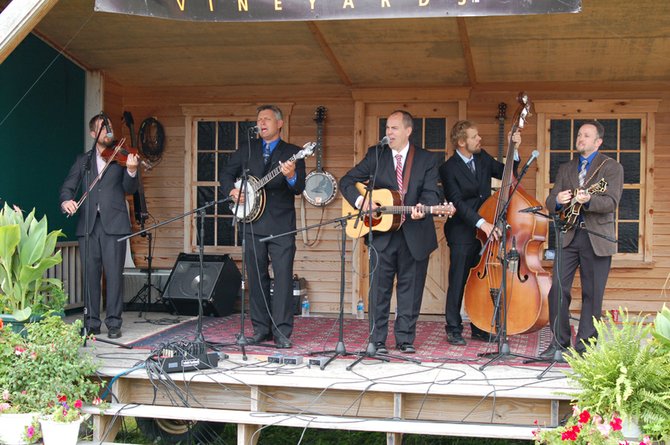 Plattsburgh — Ellenburg Depot natives Eric and Leigh Gibson will return to the 2nd Annual Plattsburgh Bluegrass Festival for a Sept. 14 performance with their award-winning band, the Gibson Brothers, at the Clinton County Fairgrounds. They will join nine other bands during the Sept. 12-15 event.
The festival will be held two weeks earlier this year, and it will last for four days instead of three like it was during the inaugural year.
"This year, I've started the music on Thursday," said Clinton County Fair Manager Glenn Gillespie said. "Last year was my first year, and I noticed that a lot of people came in on Thursday, and everybody was waiting for music. This place was packed on Thursday, so we decided to start it a day earlier."
In 2012, the crowd was bundled up as the temperatures do during the fall in the North Country. But there's no telling what the weather will be like, according to Gillespie. The 2013 festival will be held just as the fall foliage season is getting under way.
"Last year it was cold the three days we were here, but the following week it was in the 80s, so you just can't tell with the weather," Gillespie said.
For a new event, it seems as though the festival is gaining some momentum.
"Last year, we didn't know how it would work out, and we actually did very well last year," Gillespie said. "Now this year has just gone crazy. They've been calling for a spot since January."
All electric sites are sold and they're renting out dry camping spots behind the stage. They expect regular bluegrass festival goers and visitors from north of the border.
"I'm getting a lot of interest from the Canadian crowd," Gillespie said. "I was up in Pembroke, Ontario last week and passed out a bunch of our brochures, and the phone has been ringing off the hook ... We had a lot of Canadians last year, but this year it looks like we'll have even more."
(Continued on Next Page)
Prev Next
Vote on this Story by clicking on the Icon