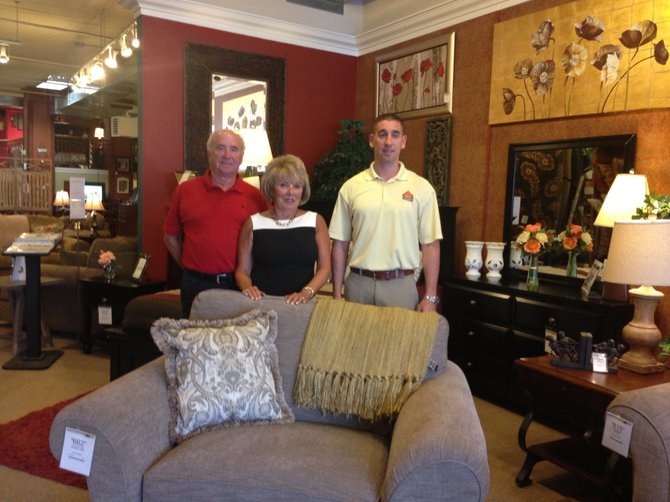 continued — There are two departments separated from the mix and match furniture staging areas including a section for recliners and another for bedding accessories.
"People have really taken an interest in our lift chairs, we have a huge selection of them and they don't all look like lift chairs but resemble regular recliners," said Sam.
"All furniture people buy at our Margaret Street store we order brand new for you, our customers get never been sat upon pieces and we can usually get it back to the customer within a week," said Sam.
Last year the store opened a second location on Boyton Avenue where items no longer available for order or mix and match items can be purchased.
"Some people need a piece of furniture right away, we saw a need for that here in Plattsburgh and at our outlet they can take it home that day," said Sam.
The outlet also allows for the Margaret Street location to keep only new items in the store, where in the past discontinued items would take up valuable floor space.
"At our outlet we sell items that are no longer offered in the Ashley selection and some scratch and dent items," said Sam. "This way we can keep our stock fresh and new at our show room and have discounted items available at our outlet."
The outlet also serves as the store's warehouse where new items are shipped to and then brought down to the Margaret Street location.
Though the store operates under a chain name, Sam said it is definitely a family business first which includes all 19 of the store's employees.
"It's a unique system, we have a licensing agreement to carry only Ashley Furniture but we are independently owned and operated," Sam said. "My father and his wife Maureen opened the store, and I've worked here since it opened and my aunt also works as an office manager."
"Most Ashley furniture is made in the USA that's one of the reasons we were so excited to sell their products, Ashley has virtually reinvented the American furniture business and is starting to bring more jobs to America," said Sam.
For more information about the store or to see production selection go to www.ashleyfurniturehomestore.com or call the store at 324-3400 to speak with a sales representative.
Vote on this Story by clicking on the Icon