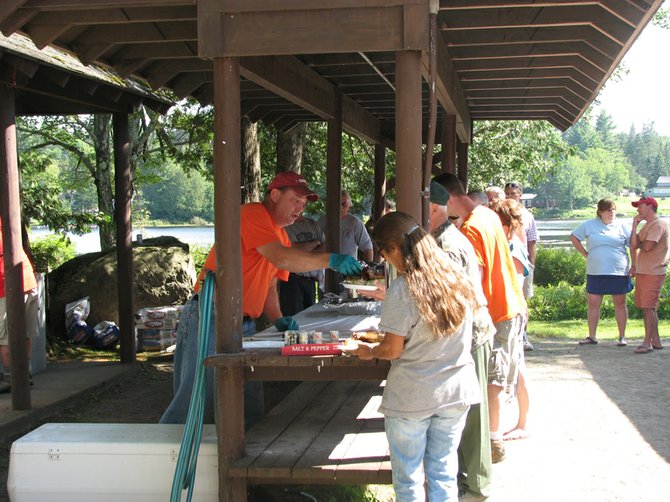 Newcomb — Members of the Newcomb Sportsmen's Club weren't able to celebrate their 60th anniversary in 2012, so they held a party on Aug. 17 this year at the town beach. The club is now 61 years old and has seen a major shift in the way families recreate in this part of the Adirondack Park since 1952.
"We were a hunting and fishing club when this all started, and over a period of time it's all changed," said Newcomb Sportsmen's Club President Joe Novak. "Now we've become a hunting, fishing and family club."
The Newcomb Sportsmen's Club leases about 7,000 acres of land west of County Route 25 — the road to Tahawus — from Upper Hudson Woodlands ATP, LP, which contracts with the owner, F&W Forestry Services, Inc., to manage the lands. The property borders the Camp Santanoni Historic Area to the west and will soon border state land to the north acquired from the Finch Pruyn purchase. That land is currently leased by the 4,100-acre Santanoni Club.
"We will be the last club at the base of the High Peaks," Novak said. "This will open up that land for us to enter the back side of it, to hike, hunt and fish that area. We can get there quicker than anybody else can."
Hunting and fishing were the mainstay activities at the Newcomb Sportsmen's Club for decades, and they were enjoyed mainly by men. Now women are members, and activities are more diversified.
"You don't have the fathers, the grandfathers and the sons hunting like they used to." Novak said. "And I think that's changed the club and the way we operate. It's becoming more of a family thing because the history of hunting has changed dramatically since the 1960s and 1970s. Before when somebody came up here, they'd have their father, their brother and their uncle. Their sons and everybody would hunt. Now it's completely different."
(Continued on Next Page)
Prev Next
Vote on this Story by clicking on the Icon