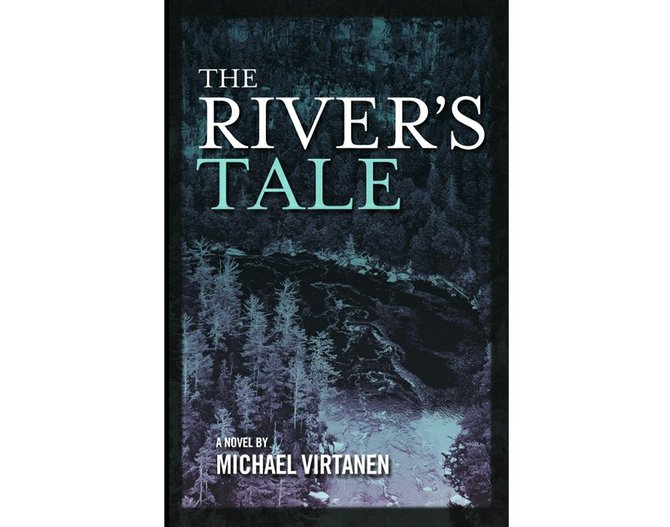 North Creek — Lost Pond Press Publisher Phil Brown was right; you don't need to read Michael Virtanen's first award-winning book, "Within A Forest Dark," to enjoy and understand his latest one, a prequel called "The River's Tale." It stands well on its own.
In fact, I liked "The River's Tale" better. Maybe it's because Virtanen threw me into a tense situation right away, with Alison Reade escaping her stalker ex-boyfriend and New York City home to visit her aunt in the Adirondacks. Or maybe it was because I knew the people who — it looks to me — probably inspired two of his characters: the aunt, Lottie of Newcomb, and the whitewater rafting guide, Wallace Lafluer of Lake Placid. In any case, it didn't matter that the main character of "Within A Forest Dark," insurance agent Jack Kirkland, was introduced later in Virtanen's new book — way back in Chapter 23. I was already engrossed into the lives of Alison and Wallace and the mysterious death on the Hudson River.
Taking me back to Newcomb, where I fell in love with the visitor center while working for the Adirondack Park Agency, was comforting. Virtanen picks the perfect place for Alison to escape her psycho ex, Will. Newcomb is remote, even by Adirondack standards, and introduces us to the Hudson River, which plays a key role in this story. Lottie's camp is located there, and the death of a rafting patron occurs on the Hudson. It's a familiar setting for me, but most likely a foreign one for those escaping from the big city.
Lottie is the typical Adirondack woodswoman. Sound familiar? She lives in the woods with her dog. She works on projects for the APA. It sounds like Anne LaBastille to me. I knew Anne a little, meeting her at author fairs, so this was a character I instantly liked. Lottie is ornery, feisty, independent and caring. I wanted to see her beat up the bad guys.
(Continued on Next Page)
Prev Next
Vote on this Story by clicking on the Icon