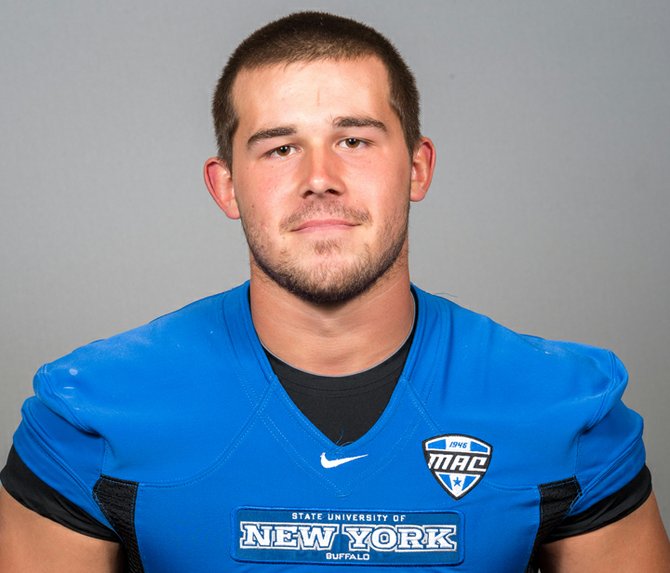 Port Henry — Nick Gilbo always dreamed of playing Division I college football against the best players in the country.
That dream came true in a big way Aug. 31 when the former Moriah High School gridder and his University of Buffalo teammates faced Ohio State — ranked second in the country — at the famed "Horseshoe," the home field of the Buckeyes, in front of 100,000 fans and a national television audience.
The Bulls dropped a 40-20 decision in a game that was closer than most expected. While disappointed to lose, Gilbo has a life-time memory.
"I heard a lot of people say I wasn't big enough, I wasn't fast enough," Gilbo said. "I just wanted to play football. That's my dream — to play football. Every time I step on the field I give it my all. I've worked hard and my dream is coming true."
Gilbo made an impact in the Ohio State game, his first career Division I contest. The linebacker had four tackles, three unassisted, a sack for a 7-yard loss and he forced a Buckeye fumble.
In the second quarter Gilbo stuffed an Ohio State back on a 4th-and-1 play at midfield.
"I got up all excited," he recalled. "I said to myself, "I belong here. I can play with these guys.'"
Gilbo wasn't the only one excited.
"It didn't seem real, watching my son on national television," said Becki Gilbo, Nick's mother. "Our living room was full of family and friends watching every play. It was great."
While mom was unable to make the trek to Columbus, Ohio, for the game, Nick's father, Pete, and brother, Nate, were on hand along with some friends.
"My husband and sons have been involved in football their entire lives," Becki said. "For them to see Nick play at Ohio State was a great experience."
(Continued on Next Page)
Prev Next
Vote on this Story by clicking on the Icon