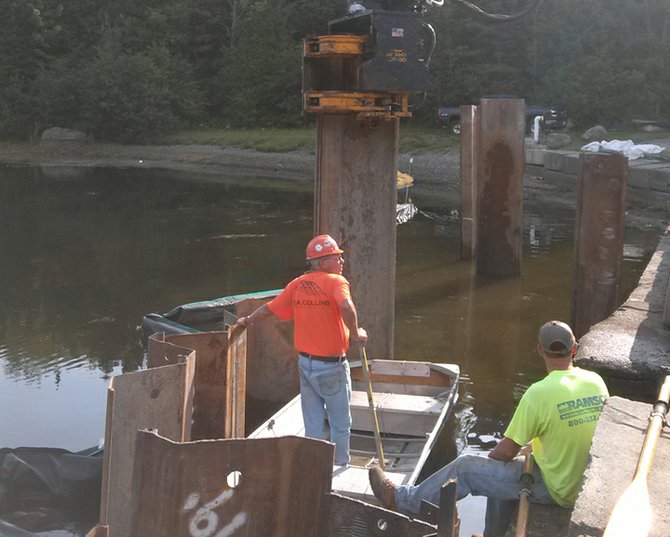 Mineville — Construction on a new dam at Bartlett Pond is expected to be completed this month.
The barrier will replace a old dam that failed twice in recent years — during Tropical Storms Irene and Lee. Those failures led to flooding that washed away a portion of nearby Bartlett Pond Road.
Bartlett Pond is the water source for the town of Moriah and village of Port Henry. Water from the 60-acre pond is treated at a $13 million facility on Bartlett Pond Road before it enters the municipal water system.
"This is a good project," Moriah Supervisor Tom Scozzafava said. "It had to be done and, thanks to FEMA (Federal Emergency Management Agency), it's being done at no cost to local taxpayers."
FEMA has awarded Moriah $120,000 grant that will cover the cost of the project.
Jamie Wilson, Moriah highway superintendent, said the old dam was more than 50 years old and no longer operable. When water levels at Bartlett Pond rose to flood stage during major storms, the dam could not be opened to alleviate the situation, he said.
Tropical Storms Irene and Lee caused flooding that made Bartlett Pond impassable, which was a problem for local residents as well as town workers who maintain the water treatment plant and pond.
Following flooding last year the Moriah highway department made repairs to the road and replaced the decking around the old dam. Winter then stalled the project. This summer a "stop-log" system is being constructed to replace the old dam, Wilson said. The new dam is being erected by Kubricky Construction.
The new dam can be manually opened and closed during future storms to prevent flooding.
"It's something we'll monitor during major storms," Wilson said of the new dam. "If there's a need to open it and lower the water level we can do it now. That should solve our problem with flooding on Bartlett Pond Road."
Vote on this Story by clicking on the Icon