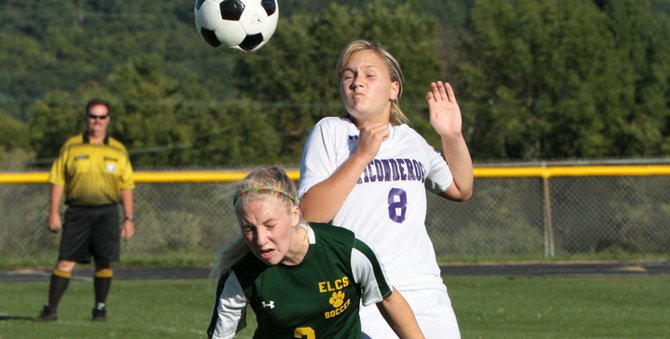 Ticonderoga — Ticonderoga sports fans are in for a treat this academic year. They can attend Sentinel home games for free.
"As a gesture of gratitude to the community for supporting the school during these tough budget years, the (school) board decided that we would not charge for athletic events for the 2013-14 school year," Superintendent John McDonald said.
Admission to Ti athletic events had been $3 for adults adn $2 for children.
Athletic admissions generate about $5,000 a year for the district, McDonald said.
"We are going to try this for one year to see how it works and then determine at the end of the year if we should continue it for the future," he said.
Other area schools, including Ausable Valley Central School, have adopted a similar policy.
Playoffs and other tournament games are not covered by the free offering because those event are governed by Section VII or the New York State Public High School Athletic Association, not the Ti school district.
McDonald hopes the new policy will encourage more people to attend Ti High athletic events.
"Attendance has been pretty consistent depending on who we are playing and what kind of season we are having," he said, "but we do hope this will attract more community members to the games."
This fall Ticonderoga athletes will compete in football, girls soccer, boys cross country and girls cross country.
The Ticonderoga varsity football team will return a lot of experience from the 2012 squad which finished 5-4 on the season.
The roster includes Jarryn Granger, Mike Graney, Ty Denno, Matt Cook, Sean Lawrie, David Bevins, Cameron Wright, Skyler Gilbert, Jesse Wilson, Shaner Cody, Taylor Coffin, Blake Gautreau, Anthony DuShane, Garrison Hughes, Dominic Banish, Parker Granger, Marick Ross, Konner Bruce, Ian Lawrie, Devin Alkinburgh, Dalton Huestis, Colby Bradford, Ryan Trudeau and Chase Dixon.
(Continued on Next Page)
Prev Next
Vote on this Story by clicking on the Icon