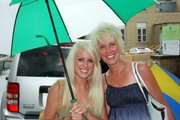 Dear Mad Advice:
I have made some bad choices in dating or stayed with boyfriends who were actually not very nice to me. Apparently I am not good at choosing up front. How would you suggest I evaluate my choices?
From Mother and Daughter:
We are interpreting this as your recognized failed search for a long-term mate. If you thought you were just "having fun" and really had no intention of longevity, your question is most likely coming from a new and surprising place where you are actually ready for a permanent future! Coming from different generations, we still see lifelong LOVE in a very similar way!
From Sally:
Start your revamp by creating a list of the top 5 qualities that you need/want in a mate. This will become your deal breaker list from the get-go. Consider lifestyle choices, education, character, spirituality, sense of humor and hobbies. This quality list may come quite easily or you may find that it takes some introspection. Ask yourself what you have liked/not liked in your past choices. Very often your new perspective comes from what you have been dissatisfied with in past relationships.
Always consider who that person will become (this is how I chose 30+ years ago), as creating a future with someone you are proud of and really like to be around is a crucial part of a relationship. Their foundation of how they were raised defines them; it may be altered, however it's ultimately these rock bottom qualities that may not be changeable.
Some other things to consider:
• In any relationship it is important to keep other parts of your life in tact and thriving. Keeping your own friends and interests should be mutually supported.
• Commitment and caring at a 50/50 proportion is something to strive for; sometimes it'll be 60/40 or 30/70, but supporting each other equally is important. 50/50 is what brings out the best in each partner, not the worst resentful version of you!
(Continued on Next Page)
Prev Next
Vote on this Story by clicking on the Icon