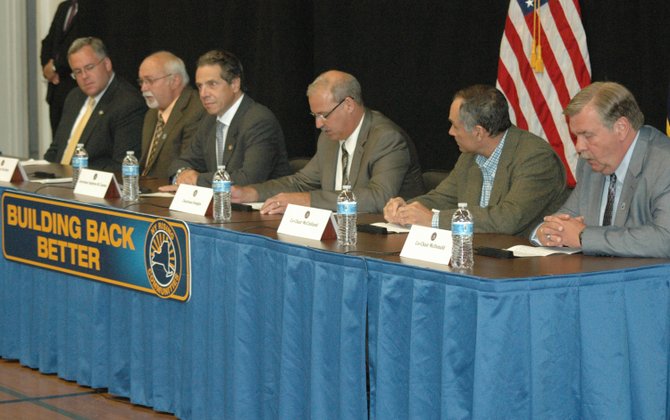 continued — "A total reconstruction is not possible without all of us working together," Ferebee said. "Through NY Rising, we can all be better prepared and I am confident that we will be able to accomplish this task."
"Empowering our own communities to build their own path to recovery is what this program is about," Stec said. "When we are finished, we will have a North Country that is stronger than ever."
The Reconstruction Planning Committee will be co-chaired by Vinny McClelland of Keene and Scott McDonald of Jay.
"This has the potential to continue to unite the communities of Keene and Jay," McClelland said. "We are going to be finding creative and collaborative solutions and we will be focused on a variety of challenges that will be coming in the future. This is a real opportunity to help our communities even more."
"It is refreshing to have a state government that gives a voice to the local communities," McDonald said. "Through this governor, we are being allowed the chance to state our own needs."
Members of the committee include Marcy Neville, Tom Hickey, Tom Both, Joe Pete Wilson, Jr., Paul Johnson, Chad Garcia, Gerald Brow, Eric Carey, Michael Mascarenas, Corrie Miller and Jody Trautner Hart.
Vote on this Story by clicking on the Icon