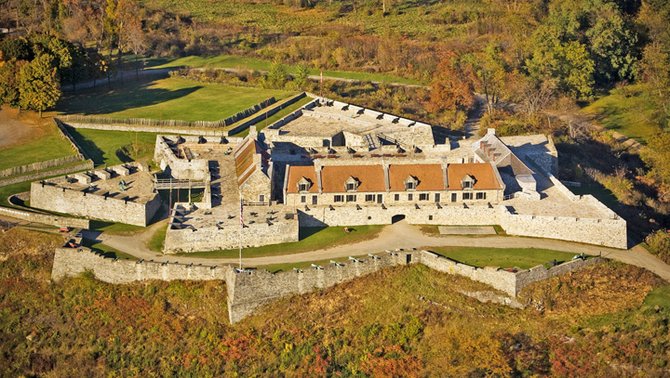 Ticonderoga — Fort Ticonderoga will honor veterans with a living history event.
"The First Call of Duty, Honoring Veterans from 1775 and Beyond" will be held Saturday, Nov. 9, 10 a.m. to 4 p.m.
Veterans Day is Monday, Nov. 11.
"Fort Ticonderoga examines the first American soldiers as the first year of the American Revolution came to a close during this special Veterans Day living history event," said Stuart Lilie, Fort Ticonderoga director of interpretation. "By November of 1775, Col. Benjamin Hinman's Regiment of Connecticut soldiers garrisoned at Fort Ticonderoga was prepared to be discharged from their colony's seven months of emergency service.
"Guests attending this event will discover the dangers and discomforts of life on campaign for these soldiers as they rebuilt Fort Ticonderoga in 1775," he said. "Hear about the hard-learned lessons of this first military campaign of the American Revolution as citizens figured out how to live as soldiers. Discover what service meant by the fall of 1775 and what prospects these veterans faced on their return home."
The program will feature Fort Ticonderoga's Fife & Drum Corps performing patriotic songs along with guided tours, musket demonstrations and programs highlighting the stories of soldiers at Fort Ticonderoga in 1775.
Veterans, Friends of Fort Ticonderoga and children 4 years old and younger are admitted free of charge. Tickets are $10 and payable at the gate. For information go online at www.FortTiconderoga.org or call 585-2821.
Guided tours of Fort Ticonderoga will be available at 10:15 a.m., 1:15 p.m. and 3:15 p.m.
Musket demonstrations will be offered at 11:15 a.m. and 2 p.m.
The Fife & Drum Corps performance will be at 12:30 p.m.
Throughout the day there will be a "Pork, Pigeon, & Pottery Exhibit" showing original artifacts recovered from the ruins of Fort Ticonderoga; an "Artificer's Post," where soldiers repair shoes for the Continental Army's public store at Fort Ticonderoga in the late fall of 1775; the "Officers' Quarters," where junior officers will show their barracks and discuss their duties; and the "Soldier's Life," which will explore the daily duties of the fort's garrison of citizens turned soldiers.
Vote on this Story by clicking on the Icon