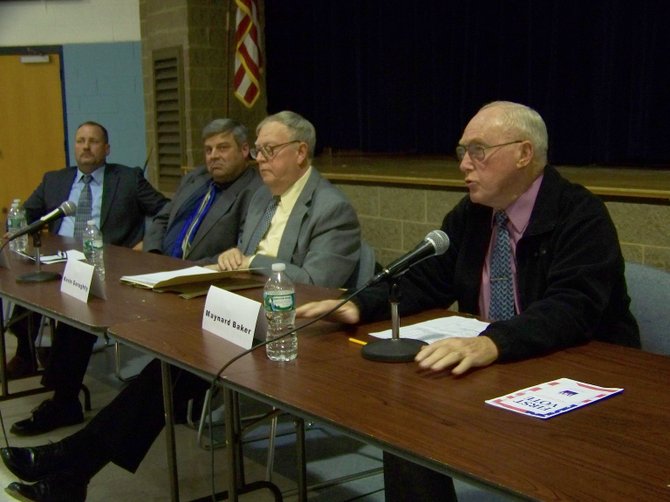 continued — Keeping landfill open an extra day — raise taxes for convenience?
Baker also pledged, as one of his top three campaign issues, to keep the landfill open seven days a week versus the present six days. When asked how he'd do it without burdening taxpayers by boosting municipal personnel expenses, he said that when he elected in the 1980s, he added landfill staffing, and he'd so again.
"Somehow they found a way to do it — they juggled personnel around," Baker said.
Geraghty responded that the shortening of landfill hours since Baker's tenure was an action of curbing government spending.
"The town board made the decision to shut down one day to save the taxpayers money," he said. "To keep the landfill open seven days, we'd have to hire another person."
Government spending issues disputed
Baker accused Geraghty of excess government expenditures, saying that general fund appropriations had increased during Geraghty's tenure.
"From 2006 to 2012, the tax levy increased by $611,804," Baker said, citing a 42 percent increases in the highway fund and similar increases in the sewer and lighting categories.
Geraghty responded that the increase in the sewer and highway appropriations were due to prior administrations' improper budgeting — overspending the designated funds, then transferring money from the general fund to cover the excess. He said that under his administration, the proper allocations were now being budgeted — so those increases Baker cited didn't reflected poor prior budgeting of prior administrations, and not the real level of increases.
He added that he and the town board over the last seven year or so had successfully cut expenditures and municipal staffing to save taxpayer money, in the face of unavoidable costs like state-mandated employee retirement payments which had spiraled 82 percent and health care costs — which town employees were now contributing toward.
Vote on this Story by clicking on the Icon