Crown Point — If Crown Point and Ticonderoga school districts merge, taxpayers will save money and students will have more opportunities.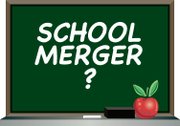 That's the conclusion of a report by Castallo & Silky-Education Consultants, a Syracuse-based firm hired by the two districts to study a possible merger. The report was funded by the New York State Department of State.
The final report will be presented Tuesday, Nov. 12, at 7 p.m. at a meeting of both school boards at Crown Point Central School.
Helping the consultants draft the report were two committees representing the schools. Crown Point's committee included Seth Celotti, Anita Johnson Tom Fish, Brian Kiely, Agatha Mace, Shana Macey, Peggy Patnode, Tara Spaulding and Tom Wranosky. Ti's committee included Mike Cherubini, Joyce Cooper, John Donohue, Dave Iuliano, James Major, Seanna Porter, Lynn Reale, Nancy Rich and Michelle Young.
The 125-page report looks at enrollments, programs, athletics, facilities, transportation, staffing and finances.
It is available on the Ticonderoga Central School website at www.ticonderogak12.org/disinf.cfm?subpage=960823. It is also on the Crown Point website at www.cpcsteam.org/district/merger-study/final-report-1-4.pdf
Following receipt of the final report each school board will decide whether to pursue a merger. If they agree to a merger, the issue then goes to voters in each district as a straw vote. If voters OK the merger plan it goes to the state education department, where the commissioner of education will ask for a second vote of both districts.
A single no vote at any point kills a possible merger.
A merger would save the new, combined district almost $1 million a year, according to the report.
"Considering incentive operating aid, additional building aid, savings from staff reductions and budget efficiencies, loss of BOCES aid, and the cost of leveling up staff salaries, it is estimated that a merged district would realize savings and additional revenues of $12,225,241 for the first 14 years after a merger," the report states.
(Continued on Next Page)
Prev Next
Vote on this Story by clicking on the Icon