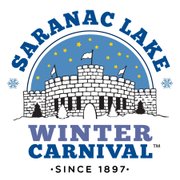 Saranac Lake — Members of the Saranac Lake Winter Carnival Committee Tuesday, Oct. 15 unveiled a new logo during their monthly meeting at the Saranac Lake High School.
The logo – now in color – was designed by Saranac Lake artist-designer Kathy Ford and will be used as a keystone in the design for the new Winter Carnival website, which is currently under development and is expected to be launched by the end of the year.
A small subcommittee of the larger Winter Carnival committee started meeting in late spring to work on developing the new logo.
"We were looking for something that would reflect the great heritage and history of Winter Carnival, touch on key aspects of Carnival, particularly the Ice Palace, and say something about where we live," said Mark Kurtz, of the logo subcommittee. "And we wanted it to say WINTER."
The logo committee sent requests to three local artists and designers early in the summer, and received a few designs. Graphic designer Kathy Ford submitted several initial designs, and Committee members worked with her to finalize the logo.
"I am passionate about giving back to my community," Ford said, "so when the Winter Carnival committee asked if I would volunteer my time and creative services to design a new logo for this hugely popular, long-standing winter event in Saranac Lake, I was only happy to assist."
The design includes an image of the Ice Palace, which is the centerpiece of the Saranac Lake Winter Carnival, with white flags waving on the parapets just below yellow stars in a blue night sky. The words "Saranac Lake" are draped over the top in a semicircle. Below the Ice Palace, the words "Winter Carnival" are placed in straight lines, one word on top of the other.
Ford used two shades of blue for the lettering. Two light blue snowflakes flank the Ice Palace, one just below the "S" and one just below the "e" in the words "Saranac Lake."
(Continued on Next Page)
Prev Next
Vote on this Story by clicking on the Icon