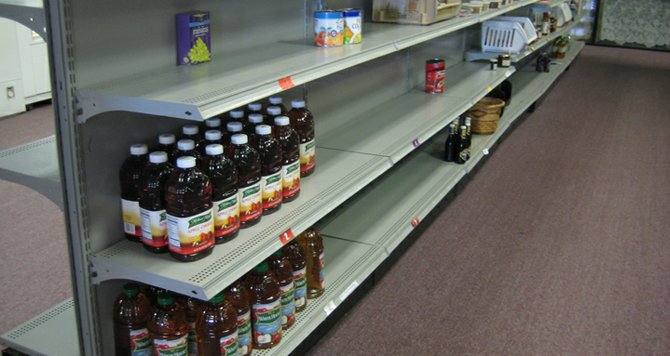 Mineville — Normally people come to the Moriah Food Pantry for help. Now, the tables have turned. Pantry officials are asking the public for assistance.
The holidays are approaching and the Moriah Food Pantry is not prepared. Its shelves are near empty.
"I'm asking residents to donate non-perishable food items, hold food drives and make cash donations," said Sue Morse, pantry director. "Moriah residents have always come through for the pantry in the past and we know we can count on their caring and generosity to help once again."
The Moriah Food Pantry, located in the basement of All Saints Church on Bartlett Pond Road in Mineville, is an emergency service that provides a three-day supply of food to families in need. It serves about 85 families a month.
The pantry is open Wednesdays 10 a.m. to noon. It is closed if Moriah Central School is closed.
Non-perishable food items can be left in drop boxes at Mac's Market in Port Henry, St. Patrick's Church in Port Henry, All Saints Church in Mineville and at other churches in town. Groups wishing to hold food drives can contact Morse at 942-3386. Pantry volunteers will pick up all donations.

Cash donations can be sent to the Moriah Food Pantry, 15 Maple Lane, Mineville 12956. Cash is needed to purchase meat and other perishable foods.
The Moriah Food pantry purchases food from the Northeast Regional Food Bank, but increased prices there mean less food for the Moriah food shelf.
"Also, federal and state regulations on the types of food being distributed by pantries are changing," Morse said. "For example, no longer will the pantry purchase condiments like mayonnaise and ketchup, pancake mix or syrup, jelly, or canned soup, spaghetti rings, or ravioli."
Morse hopes people will keep the food pantry in mind this holiday season, when demand for food is at its greatest.
"The pantry would like to purchase turkeys and hams for the holidays, but that can be a huge expense," Morse said. "A suggestion was made that residents who receive holiday hams or turkeys from their employers, and do not use them, perhaps consider donating their turkeys or hams to the pantry to be distributed. That would help the pantry tremendously."
Vote on this Story by clicking on the Icon