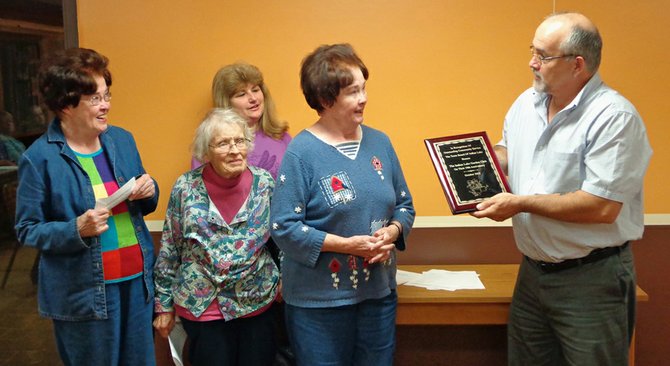 continued — •Chris Fuller Request: This request to place environmental monitoring equipment on or around the Lake Abanakee Dam was tabled in September's meeting to allow more time for investigation. This month, the board voted unanimously to approve the request.
•Resolution #12: This resolution is in support of propositions #3, 4, and 5 on Novembers ballot. The board voted unanimously to approve Resolution #12 and all the subject propositions.
•Japanese Knot Weed and Life Flight requests for funds: Supervisor Wells motioned that these requests be handled as part of the budget workshops. The motion was seconded and the board unanimously approved consideration during budget workshops.
•Elected officials' salaries: Discussion ensued on the part of Councilman Valentine focusing on the fact that Supervisor Wells' salary did not reflect any increase over the past two years and suggested a 3% increase. Supervisor Wells declined to accept any suggestion of a salary increase and pointed out that Councilman Valentine has not taken an increase. The motion was made and seconded to approve the elected officials salaries as they stand and the board unanimously approved.
•Snocade: Councilwoman Stanton announced that there is a committee working on this event. It is planned to be a weeklong event having the objective of growing winter visitation and business within the town. The event will be attached to Winter Fest, February 14th through 22nd, 2014. Uphill drag races are planned as well as a Flea Market and an Antique Snowmobile Show (perhaps at the Museum), among other activities. Stanton asked that this become a town-sponsored event. The event is counting on crews to with activities and the event is currently working without funding. Motion was made that a separate line item of not more than $5,000.00 be made. Supervisor Wells seconded the motion make by Councilwoman Locke with the caveat that no amount be set until the line item is discussed with Pam Howard. The motions were unanimously approved by the board.
Supervisor comments
With regard to the budget, Wells requested that the Board members get contingency budgets for projects that have been brought forward and get with Pam Howard to get them listed.
The next regular meeting of the Town Board will be at 7 p.m. on November 12th in the Indian Lake Town Hall on Pelon Road.
Vote on this Story by clicking on the Icon