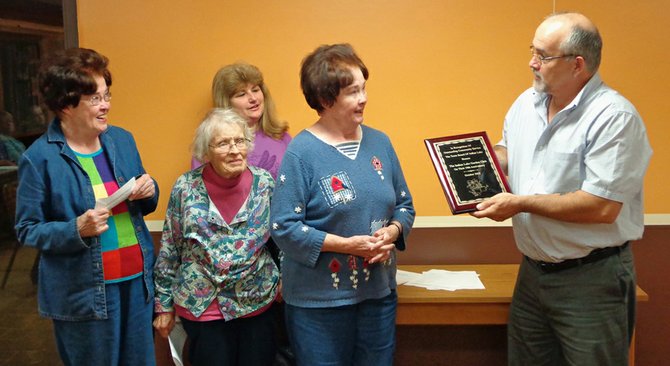 Indian Lake — On Wednesday evening, Oct. 16, Indian Lake Town Supervisor Brian Wells opened the monthly Town Board meeting by presenting a plaque of recognition to a group of members representing the Indian Lake Garden Club.

The group was made up of Pat Leonard, Mary Leonard, Lois Kelley and Kim Ameden. Wells made the point of how beautiful the town looks throughout the seasons, "putting out a visual welcoming mat" making the entire town proud of the face that is put forward to visitors and residents alike.
The Garden Club is currently celebrating its 10th anniversary. Garden Club President, Pat Leonard, officially accepted the plaque on the part of the club saying, "We couldn't do what we do without volunteers and the Town's Parks and Recreation crew" helping the efforts of the club, moving planters and undertaking other tasks that support our work throughout the year.
Tentative budget
The first-pass, tentative Budget Summary for calendar year 2014 was shared during the meeting and reflected an amount of $3,538,233 in taxes, $12,475 being a fund balance, $632,112 in revenues with a total appropriation of 4,182,820.
As for the portion of the budget covered in taxes, there is a need to find $154,663 in cuts, bringing the tax portion down to $3,383,570 to stay within the tax cap.
Budget workshops were also held on Oct. 23 and 24. On Thursday, Oct. 31, board members are expected to finish their budget changes during a 7 p.m. meeting.
A public hearing on the preliminary budget will be held at 7 p.m. Thursday, Nov. 7.
All workshop sessions will be held in the Indian Lake Town Hall on Pelon Road.
Other business
•Safety and Security: Electric locks are to be installed on the front door of the town hall and on the door leading from the meeting room to the town offices. Locks have been procured and the town received two budgets for installation: one from R. Lewin of $325.00 for materials and labor and another from B. Willemsen for $150.00 covering materials only. The board voted unanimously to accept both bids for consideration and they will be voted upon at the next monthly meeting.
(Continued on Next Page)
Prev Next
Vote on this Story by clicking on the Icon