CHESTERTOWN — Creative costumes, effusive pug-love and spirited socializing prevailed at 14th annual Pug Party & Parade, held recently at the Town of Chester's Dynamite Hill Recreation Area.
The event drew 153 pug contestants, accompanied by hundreds of humans.
Carol Barboza, 75, of Bolton Landing smiled repeatedly as she watched a variety of costumed pugs go by Oct. 20.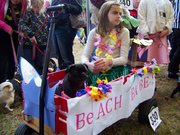 Her pugs were dressed up as the Three Bears of Goldilocks fame — each wearing a pair of red long underwear, stuffed bear heads attached to their necks. The getup was complete with bear-paw slippers for each. Barboza has been bringing them to the Pug Parade for about six years, she said. A prior year, she dressed them up as scarecrows.
"Believe me, it's the same as packing up for babies when you take them anywhere," she said, describing the food, water, costumes, and treats that accompany her troupe.
One family of pugs enjoyed a reunion at the Pug Party & Parade, costumed as Snow White and the Seven Dwarves — well, at least six of them.
Jill Metcalf had her pug "Gwen" dressed up as Snow White in a princess gown, and six of Gwen's seven pups — who now belong to other Queensbury residents — were garbed as the dwarves. Metcalf's husband George had his pug "Diego" impersonating Prince Charming.
Stephanie Carota, one of the owners of a toddler pug, said that the pug parade was idea for the canine reunion.
"The dogs are having a great time," she said watching them cavort, causing their costumes to go awry.
Kathleen and Ted Wilson of Queensbury accompanied another of Gwen's offspring, "Bentley," to the pug parade. Bentley was a gift to Wilson's son Luke, 13, because of his scholastic accomplishments.
"This is awesome because Bentley's getting together with his parents again," Luke Wilson said.
(Continued on Next Page)
Prev Next
Vote on this Story by clicking on the Icon