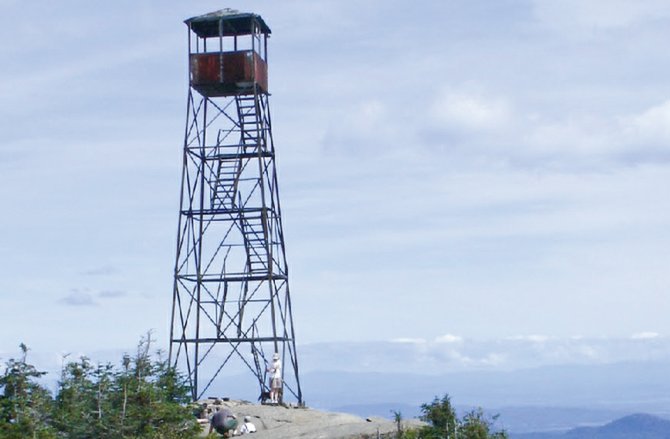 Ray Brook — Four years after recommending its removal, the state Department of Environmental Conservation (DEC) is seeking to improve the Hurricane Mountain fire tower.
DEC staff members have drafted a Unit Management Plan (UMP) that calls for the fire tower to be repaired for "Public Access and Communications" use. Under the plan, the tower would be maintained for full public access and include written interpretive materials that would be, "informative but not intrusive."
The UMP also calls for a strong volunteer presence at the site to oversee safety, usage and maintenance.
"The Department would enter into an agreement with a volunteer organization to be present during higher-use periods for the purpose of educating the public and monitoring use of the unit," the plan states. "Volunteers would also be sought to assist with opening the tower for public use as well as the long-term maintenance of the tower."
The plan calls for a permanent radio repeater to be installed in the cab of the tower. According to a press release, the recommendations are part of promoting tourism and preserving the historic building.
"As Gov. Cuomo continues his commitment to spur tourism, the release of these draft unit management plans is another step in ensuring these historically significant resources will be enjoyed for many generations to come," said DEC Commissioner Joe Martens in the release. "Throughout the 20th century, fire towers played a critical role in the protection of New York state's natural resources, and resuming maintenance of these structures for educational purposes will attract travelers and provide the public a better appreciation of that legacy."
The chosen path for DEC is one of six management options: no action, tower removal, minimal maintenance, public access only, communications only and public access and communications.
In 2010, DEC officials proposed the tower be removed because it was identified as a non-conforming structure under the State Land Master Plan (SLMP) as part of the Hurricane Mountain Primitive Area. However, members of the Adirondack Park Agency (APA) Board of Commissioners came to the rescue of the fire towers at that time by classifying the half-acre space at the peak of Hurricane as a historic area. At the same time, they changed the classification of the Hurricane Mountain unit from primitive to wilderness.
(Continued on Next Page)
Prev Next
Vote on this Story by clicking on the Icon