Crown Point — Forced to relocate following an act of nature, the Crown Point Senior Citizens Center is up and running with meals and activities.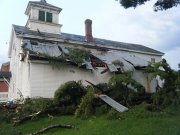 The center is now in the basement of the Crown Point Methodist Church on Creek Road. It was in the Knapp Center at the Hammond Park until a storm knocked over a tree, causing significant damage to the building's roof, kitchen, rest rooms and storage area.
"This is temporary, until the Knapp Center is repaired," said Tatum Trombley, Crown Point Senior Citizens Center site manager. "It could be a while, though. There was a lot of damage. We really appreciate the church allowing us to move here."
The Crown Point Senior Citizens Center is open Wednesday and Thursday 2 to 6 p.m. Funded by the Essex County Office for Aging and operated by the Adirondack Community Action Program, the senior serves dinner and provides social activities.
Dinner for people age 60 and older is free, although a $3.50 donation is requested. Dinner for people younger than age 60 costs $6.
"We never turn anyone away," Trombley said. "Everyone is welcome here."
Along with dinner there are crafts, movies, puzzles, games and cards along with socializing. There are also special programs on issues affecting senior citizens.
"Basically, people can do anything they want," Trombley said of the center. "It's a place where everyone is welcome to gather and enjoy themselves."
Attendance at the senior center has fallen since the move to the Crown Point Methodist Church. Trombley cited several possible factors — people may not know the new location; the new location is away from the hamlet and requires transportation; summer residents have left the community.
About a dozen people attend now, she said. Attendance was about two dozen before the move.
"I just hope more people will come," Trombley said. "We offer a lot of opportunities. The Office of the Aging can help seniors with a lot of issues. I have information on Means on Wheels, health insurance. We can really help seniors."
(Continued on Next Page)
Prev Next
Vote on this Story by clicking on the Icon