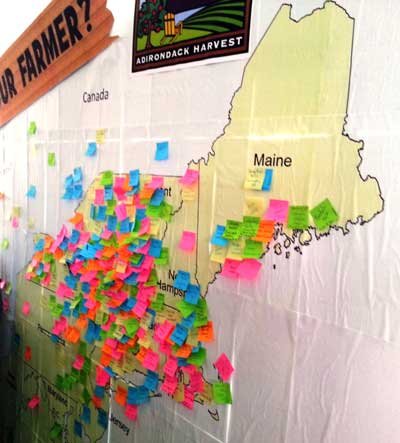 SARATOGA SPRINGS — Adirondack Harvest, the regional buy-local campaign sponsored by Cornell Cooperative Extension of Essex County, recently participated in the acclaimed agricultural exposition and fundraising concert, Farm Aid 2013. The concert, held at the Saratoga Performing Arts Center, featured a lineup of megastar musicians including Dave Matthews, Willie Nelson, Neil Young, and John Mellencamp.
As an exhibitor in Farm Aid's "Homegrown Village," Adirondack Harvest was one of more than 50 food and farm groups educating the public with entertaining and interactive displays.
Teresa Whalen, Adirondack Harvest Board President said the event, which featured a lineup of rock 'n roll stars, prompted people of all ages to feel invested in the effort to support small farms, local agriculture and healthy eating.
"Young and old alike were able to participate and contribute to the event's success," she said.
Adirondack Harvest's "Who's Your Farmer?" exhibit featured a giant map of the northeastern U.S. and southern Canada. Expo attendees were invited to celebrate their own local farmers by posting sticky notes on their home location. The map quickly filled with hundreds of notes listing concertgoers' farm connections from California to Maine, and from Canada to Greece.
"It was exciting to be part of such a huge national event," said Laurie Davis, Adirondack Harvest coordinator, "We were a bit overwhelmed by sheer volume of people crowding into our display area to make sure their local farmer was represented on our map. The pride in supporting local farms was tremendous!"
Along with a continual showing of "Small Farm Rising", a documentary produced in cooperation with Mountain Lake PBS and featuring local farmers, the map helped Adirondack Harvest to promote and celebrate North Country farms. For more information about Adirondack Harvest visit www.adirondackharvest.com.
Vote on this Story by clicking on the Icon