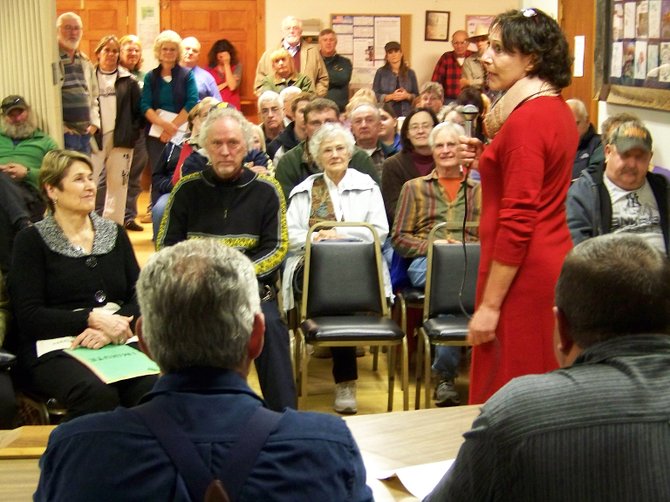 continued — She noted that she had followed a path of fiscal conservatism in leading the town, despite the various financial stresses, including costs of rebuilding the roadways. She announced that another $50,000 in assistance for infrastructure reconstruction was now arranged for.
"I would be honored to serve you in this next term," she said.
Michael Eddy, also an unopposed town board candidate, told the crowd he was running for the position because he wanted to boost volunteerism and activities in town.
"I've seen this community go downhill in recent years," he said. My politics are zero — I'm here to help this town."
Smith noted he was a lifelong local resident, and he had served in the Thurman Volunteer Fire Co. and the ambulance squad for a total of 20 years, including positions as chief of the fire company for five years and president of the squad for two. Smith observed he had drafted budgets and negotiated various contracts.
"This kind of leadership experience could help the town out," he said.
Thurman Town Highway Superintendent Patrick Wood also spoke to the crowd, although his challenger Howard Cook didn't attend the event.
Patrick Wood said he'd served the town for 17 years, and it was his mission to continue improving road drainage and rebuilding the town roads — to be sturdier than ever, able to withstand major floods.
Debate moderator Lisa Payne of Diamond Point told the crowd that she and her associates would be trying to arrange another Meet the Candidates Night so the public's questions to the supervisor candidates could be answered.
Supervisor Evelyn Wood said she'd be happy to meet with citizens and answer their questions, inviting them to drop by at the town hall, call her up or send her e-mails.
The supervisor race has garnered considerable attention this year. Haskell and Eddy announced their candidacies in early 2013 after the town board cut funding for the local ambulance squad — due to its shaky finances and lack of Advance Life Support certification — and eliminated curbside garbage collection, which the board said was necessary to avoid huge tax increases.
Vote on this Story by clicking on the Icon