THURMAN — About 100 citizens turned out for a Meet the Candidates Night Tuesday evening, but an expected political showdown didn't occur because the outspoken challenger for the top town government post didn't show up — apparently because of an injury.
Former town supervisor John Haskell, who's challenging current town supervisor Evelyn Wood to lead the town for the next several years, didn't show up to the much-anticipated event, apparently because he was recovering from surgery after a mishap caused by a fairly serious injury.
Dozens of questions that had been collected from the crowd filling the town hall went unanswered.
Members of the League of Women Voters who were conducting the event apologized and said that since Haskell wasn't present, it wouldn't be fair to entertain the many questions that the public had submitted.
Candidates for other town offices who did turn out, however, read statements. Dan Smith, one of two unopposed candidate for town board, talked briefly about his own candidacy, as well as reading a statement that Haskell had provided earlier in the day.
"Come January, hopefully I will again be serving the people of Thurman," Haskell's prepared statement read. "My record stands on its own, if you choose to look at the facts and figures."
Evelyn Wood spoke directly to the crowd, rather than reading a statement. She praised the crowd for their interest in the town's governance, evidenced by the turnout at town board meetings this year.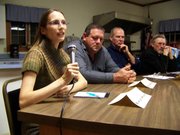 "Thurman residents put the rest of the county to shame, considering your participation, which is just wonderful," she said. Wood continued, speaking of the challenges the townspeople and town leaders have withstood in the past several years, including the historic flooding in 2012 that washed out nearly al the roads and many of the bridges in town.
"The floods, the tax caps, we've seen it all," she said. Wood has received praise from county and state legislators for her round-the-clock work in leading a recovery from two flooding incidents in 2011.
(Continued on Next Page)
Prev Next
Vote on this Story by clicking on the Icon