LAKE GEORGE — The new Price Chopper supermarket to be built soon just south of Warrensburg will offer a variety of specialty departments, is expected to create up to 115 permanent jobs and stay open 24 hours/seven days per week, company executives announced at the store's ground-breaking ceremony Wednesday Oct. 16.
Area politicians and economic development officials praised the store plans that were unveiled at the event.
Neil Golub, Chairman of the Board of the 132-store chain, said he was "really excited" to introduce the new store to the public. He said it would be modeled after a new store in Alexandria Bay (Jefferson County).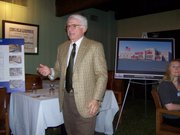 Although it won't have that store's dockside shopping, it will have a full-service deli, a bakery with artisan breads and pastries, a coffee shop, a hot pizza/rotisserie chicken counter, and host full-service meat and produce departments and a floral shop, according to the plans.
He said that the Alexandria and Warrensburg-Lake George stores, both in resort areas, have another aspect in common: the wide variation in staffing during the summer and off-season.
Golub said that Price Chopper officials have been eyeing a store near Warrensburg for decades, knowing that the town, with its confluence of highways, was indeed "The Gateway to the Adirondacks," as it has been called.
He said that during the 1990s, Price Chopper officials had scouted the building that is now a Tops Store as a potential location, but decided it was too run down to open up a Price Chopper there.
"It was so small, so in need of renovation that we walked away," he said, adding that the executives didn't forget about the potential that existed for a full-scale supermarket in or near Warrensburg.
"We saw a good opportunity to develop a store there that fits the community," he said. "We waited until we could do it right."
(Continued on Next Page)
Prev Next
Vote on this Story by clicking on the Icon