Schroon Lake — The "Brain Man" is coming to Schroon Lake.
Dr. Richard Seegal, scientist emeritus at the Wadsworth Center of the New York State Department of Health and a professor in the School of Public Health at the University of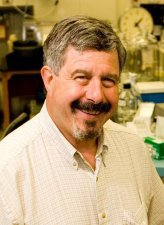 Albany, will speak at Schroon Lake Central School as part of the school's National Honor Society lecture series.
The talk will be Tuesday, Oct. 29, at 6:30 p.m. in the school auditorium.
"Affectionately known as the 'Brain Man,' for the past 38 years Mr. Seegal has studied the effect of contaminants on the function of the brain, including Parkinson's disease and autism," said Caleb Maisonville of the Schroon Lake honor society.
"Mr. Seegal compares knowledge of the brain to understanding a car owner's manual," he said. "When one follows the recommendations and the guidelines for what to put in the car it will run smoothly and effectively. This is quite the same with the brain, yet with even higher stakes."
The lecture will focus on "PCBs and Lead — Different Effects in Men and Women."
"His lecture guarantees to be both interesting and informative," Maisonville said.
Seegal earned his doctoral degree in physiological psychology from the University of Georgia and completed post doctoral training in biobehavioral sciences at the University of Connecticut.
"We use in vitro, in vivo and epidemiological approaches to better understand the neurochemical, neuromorphological and neuropathological consequences by which exposure to environmental contaminants, including polychlorinated biphenyls (PCBs), brominated flame retardants, pesticides and methylmercury, alter central nervous system function," Seegal said on his website, explaining his research.
"Major interests include study of the roles and mechanisms by which these contaminants influence neurodevelopmental and neurodegenerative disorders including, respectively, pervasive developmental disorders (attention deficit disorders, autism) and Parkinson's disease," he said. "Because both disorders are sexually dimorphic, with higher prevalence in boys and men, we are also intensively investigating the roles that gonadal hormones play in modifying the neurotoxic responses to these environmental toxicants. Thus, our laboratory is wedded to using a variety of techniques, both laboratory-based and epidemiologically-based to better understand the etiology of diseases of the nervous system in both the young and not-so-young."
Vote on this Story by clicking on the Icon