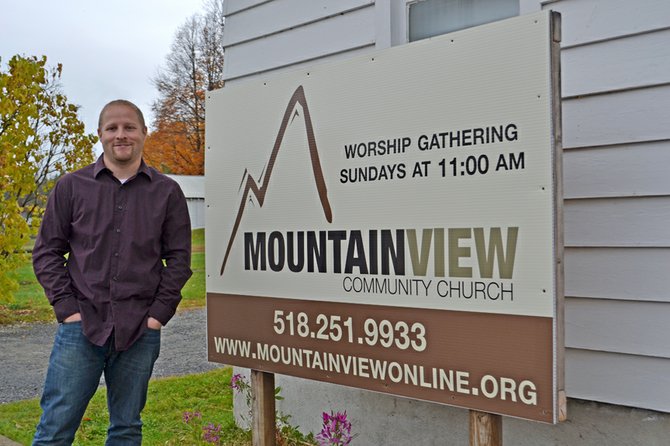 Bakers Mills — The Tannery Pond Community Center is many things to many people: meeting place, concert hall, art gallery, theater, chamber of commerce, and now — place of worship.
The MountainView Community Church, a Wesleyan congregation based in Baker Mills, will begin holding monthly services at the Tannery Pond Community Center at the end of this month, for a trial period between now and the end of April.
"Tannery Pond Community Center Association welcomes MountainView Community Church and members of the hamlet of Bakers Mills," sai d Tannery Pond Community Center Director Bernadette Speach.
Pastor Chris Taylor said he's trying to reach more people in the town of Johnsburg.
"Basically it's a six-month experiment," Taylor said.
Members of the Mountain View Community Church will still be worshiping at the Bakers Mills location through the end of April — when the experiment ends — but not on the Sundays Taylor is offering services in North Creek: Oct. 27, Nov. 17, Dec. 15, Jan. 19, Feb. 16 and April 20 — Easter Sunday. There is a scheduling conflict in March; therefore, there will be no Wesleyan services at Tannery Pond during that month. Services start at 11 a.m.
"We're not just a church in Bakers Mills," Taylor said. "We're a church of the community."
And that community includes all the hamlets in the town of Johnsburg, of which North Creek is the largest and has the most residents.
Other than Bakers Mills, the nearest Wesleyan churches are in Brant Lake, Long Lake and Lake Luzerne.
In other areas of the Adirondack Park, pastors in other religions service congregations in multiple communities.
"This is where that's different," Taylor said. "It's more of a public location. We're not starting a new church."
In all, there are about 50 people in the MountainView Community Church congregation. Taylor is looking to increase that amount, even if only by one family.
(Continued on Next Page)
Prev Next
Vote on this Story by clicking on the Icon