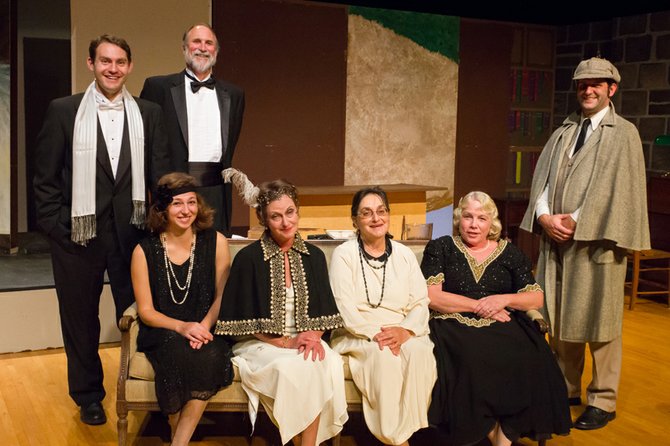 continued — So who did the director find to play the heart-throb?
"I don't know if you want to print this," Potter said with a laugh, "but it's actually my husband. Eric Potter plays William Gillette. He's been in a number of our shows lately. He plays the main role, and he happens to be my husband … He's a very strong actor. He's trained at the collegiate level."
It was Gillette who formed the classic look the world associates with Sherlock Holmes, a character created by Scottish author Sir Arthur Conan Doyle.
"As an actor, he worked with Doyle on adaptations of the story for the stage," Potter said. "He very much owned that character and knew it very well, and it was possibly questionable on where the line was between the actor and the character in the man's mind over time. So that's why it's a challenge for actors."
The cast includes Hannah Jay from North River; Barbara Westbook from Indian Lake; Judy Stafford and Dan Studnicky of North Creek; and Dennis Wilson, Maryann Sauro and Eric D. Potter of Chestertown. Trish Gardner is the stage manager while Mary Ellen Dowling and Carolyn Bischoff are the production managers. Costumes are by Robin Jay and Jane Castaneda, and Eric Potter is the technical director.
The London Times said of Ludwig's play, "A Sherlock Holmes whodunnit kind of mystery packed with suspects and tinged with suspense and laughter."
Colleen Potter extended a thank-you to Basil & Wick's restaurant in North Creek for being the event sponsor for the production of "Postmortem."
Performances will be held on Friday, Oct. 18 and Saturday, Oct. 19 at 7:30 p.m. and Sunday, Oct. 20 at 1:30 p.m. in the Lyle Dye Auditorium at Tannery Pond Community Center. Tickets are $12 for adults and $8 for students through grade 12. To order tickets, call 406-8840 or email the ticket order to OTTGTickets@gmail.com.
The play does contain some adult language and situations and may not be suitable for young audiences.
Vote on this Story by clicking on the Icon