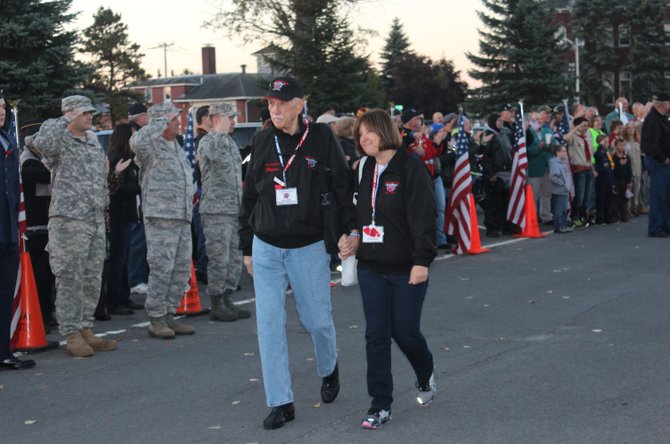 The government shutdown did not hamper the veterans from seeing any of their monuments. Since an Honor Flight from Mississippi pushed their way past National Park Service barricades on the first day of the government shutdown, the Park Service has made a special exception for Honor Flights at the monuments they visit.
Non-Honor Flight visitors have been kept out of the monuments, but during the recent visit of the North Country Honor Flight, numerous civilians managed to get past the barricades as well.
The World War II monument, and the initial attempt to keep veterans out, has become a symbol of the government shutdown, and a flash-point for protests against the shutdown. On Sunday a protest was organized which started at the World War II memorial, and protestors marched to the White House carrying signs and chanting protest slogans. At the White House protestors were met by helmet-clad police officers at the building's perimeter.
Protestors throughout the District ignored signs and pushed aside barricades to re-claim other monuments which have been closed since Oct. 1. The protests weren't limited to Washington. In Valley Forge National Park a group of runners organized a run through the park to protest the closure.
More pretests are planned throughout the week.
The North Country Honor Flight returned Saturday night without incident.
Vote on this Story by clicking on the Icon